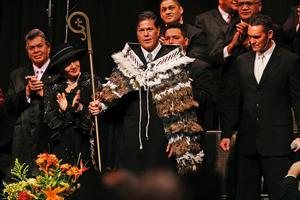 Former Destiny Church members claim families are pressured to give "love offerings" and other cash donations above the expected 10 per cent tithe.
The claim comes as TV3 confirms it has sold broadcast time to the church - funded by Destiny's new "Give It Heaps" campaign which asks families to give $2000 over seven months.
The church came under scrutiny last week after the walkout of Brisbane pastor Andrew Stock and a number of his members. Replacement pastors were sent across the Tasman to take over the church and church leader Brian Tamaki said that members who did not give money were "robbing" God.
Former Destiny Taranaki member Randolph Pratt said members came under pressure to contribute to the fundraising drives above their 10 per cent tithe.
"There's a lot of people in Destiny Church in low-income families," he said.
"How can they afford to give that sort of money?"
Pratt said he left the church after four years because it became too focused on money. He gave $1500 a month above his 10 per cent tithe.
"There are good things happening in Destiny, but just taking money from people all the time is wrong. There's just no need for it."
Pratt said he expected "a lot of flak" from Destiny members for speaking out: "I don't care because it's the truth, and it's got to come out."
Another former member, who did not want to be named, said members were expected to fill in tithe envelopes with their names, how much they were giving and any added donations.
Offerings were used to fund church buildings, even though the buildings were owned by a separate company, which the church paid rent to.
"It's the tithing and offerings that are paying the buildings off, and then they're paying rent on top of that," he said.
Another former member said they were told they would be "blessed by God" for giving their pastor extra "love offerings" - a cash donation given directly to the pastor.
In a statement, Destiny Church said Give it Heaps aimed to raise $3 million for the Destiny School in Auckland. It would also pay for producing and screening the TV programme.
"What members decide to contribute towards this goal and how they wish to contribute is purely their choice."
In a statement, Destiny said "honorariums" received by pastors were at the discretion of the local church.
TV3 has defended its decision to allow Destiny to buy a 30-minute segment on Wednesday mornings at 6am.
Spokesman Roger Beaumont said the critical coverage of Destiny Church by current affairs show Campbell Live had no impact on the network's commercial decisions.