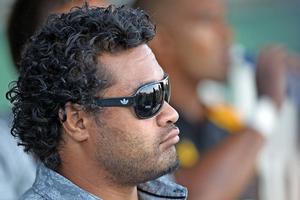 All Black Sione Lauaki has placed his immediate future at the Chiefs in doubt after another late-night incident.
Lauaki was interviewed by police after a patron at a Hamilton bar laid a complaint, and charges may follow. His Super 14 team, the Chiefs, are also investigating.
Hamilton police yesterday confirmed they received a complaint after an incident involving "a 28-year-old professional rugby player" at a central city bar early yesterday.
Senior Sergeant Greg Dunn said no one involved was arrested, however Lauaki voluntarily returned to the police station to be interviewed.
"The complainant is still to be formally interviewed at this stage and it is too early to say what if any charges may result from that," Mr Dunn said.
A source said Lauaki was involved in a "brief and fairly minor physical altercation" with another man, but the worry for all concerned is that it is not a one-off incident.
Gary Dawson, chief executive of the Super 14 franchise, yesterday issued a short statement: "We are aware of an incident involving Sione Lauaki. Until we have further details from the police, we cannot make further comment."
Players' Association manager Rob Nichol said he had been briefed but did not want to comment further on the specifics. He said a range of sanctions were available to the Chiefs under the Collective Agreement including a warning, suspension, fines, community service and even termination.
"In terms of Sione, nobody should jump to conclusions until all the facts are out. It might be a situation where no further action is required.
"But when our guys are out, they have to rise above any trouble and make good decisions."
Nichol said rugby was not the problem. If anything, the sport put a high value on helping young men grow up.
"I'd hate to get into a situation where we felt the only option left was to terminate a contract, but maybe we will reach a situation where you have to be cruel to be kind."
Lauaki has had a chequered career on and off the field.
He played his first test for the All Blacks against Fiji in 2005 and played the last of his 17 in 2008.
Indiscipline off the field has plagued him. Last year, he attended an anger management course after appearing in court on a charge of wilful damage following an incident at an Auckland motel on New Year's Day.
In 2006, he was offered police diversion after assaulting a doorman.
Another Super 14 player, who has name suppression, appeared in the Whangarei District Court on Wednesday in connection with an alleged assault. Reds too good - Sport, B20