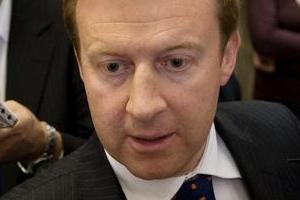 Broadcasting Minister Jonathan Coleman says he has not threatened Radio New Zealand board members with removal, but has made his expectations for their performance clear.
Documents released under the Official Information Act to One News show that Dr Coleman has told Radio NZ not to expect any new funding for the foreseeable future.
Radio NZ costs about $38 million a year to run, but the Government is demanding a shake-up to counter rising costs.
In meeting notes from last November, Dr Coleman was advised that replacing the board was an option if they could not find a solution.
"A defensive approach to wait out for the next year or two in the expectation that it will again be business as usual is not an option.
"Members of boards who are not able or prepared to meet these expectations might need to move on or be replaced by members who can."
Dr Coleman wrote to board chairwoman Christine Grice at the start of the month asking for a list of the options being considered.
"We have to be prepared for an environment where there may be no new funding available for a number of years," the letter said.
"This may require a change of mindset on the part of the board and senior management, one that embraces open-minded consideration of alternative revenue models, as well as a thorough examination of options for reconfiguring services."
This morning, Mr Coleman told Radio New Zealand's Morning Report programme board members were aware they had no option but to deliver cost-saving measures like other Government-funded organisations.
"What I have said to the chair (Christine Grice) is that there is a significant challenge here and I do need reassurance that you feel you have the right personnel on the board, and that you personally are up for the challenge," he said.
That challenge involved looking at all operational options including staffing numbers, sponsorship arrangements and studio budgets.
"It's a matter of saying 'look, what can we do for the money that's available'. It's a matter of looking at all their operations, looking at what the public requirements are, taking a realistic look at a whole lot of things from programming services through to regional offices, how the head count has grown over the last 10-years from 214 to over 280 now..."
Mr Coleman said the board needed to look at opportunities for generating new revenue, such as selling its news service, and reassess current "sacred cows" such as having no sponsorship during the concert programme.
Some of the suggestions he had seen to date, including reverting back to the AM frequency for much of the country, were not acceptable.
Mr Coleman said the board also needed to investigate whether it was viable to have major studios in both Wellington and Auckland.
"I'm not directing them on what options to choose, but I certainly want them to thoroughly examine the range of options, and finally, adopting some of those options is going to actually entail a change of mind-set..."
Last night Dr Coleman said he was still hopeful of finding a solution, though the clock was ticking and he expected a proposal from Radio NZ "within weeks, rather than months".
"If boards don't play ball at the end of the day, [replacing them] is the ultimate sanction, but we're nowhere near that stage."
Documents show that the board is resisting cuts, saying it "would result in dumbing down our service and duplication of the commercial sector's populist model".
A report in 2007 said Radio NZ was 27 per cent underfunded and operating efficiently, but could not make any more savings without damaging the service. It has already cut travel expenses.
Among options floated to save money were moving out of its Auckland premises, seeking commercial sponsorship for Concert FM, scrapping its $200,000 advertising budget or shifting back to an AM frequency, except in Auckland, which would save $750,000.
The board will appear before Parliament's commerce select committee today.
- With NZPA