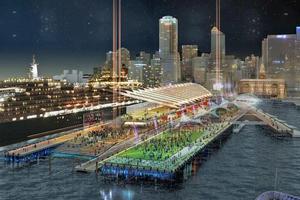 The $97 million option for Queens Wharf does not include an uncosted ferry terminal extension or $5 million of piling for mooring large cruise ships.
The image of the $97 million option released by Rugby World Cup Minister Murray McCully shows the ferry terminal extension. Three options to turn Queens Wharf into "party central" for the Rugby World Cup have also been released.
Two Auckland council officers working on the Queens Wharf project yesterday said the ferry extension was not part of the $97 million budget, nor had it been costed.
John Smith, transport and urban development general manager for the Auckland Regional Council, said the ferry extension was part of the abandoned design competition brief to be built in the medium to long-term.
He could not explain why the extension was included in the image on an official website for public feedback, but said it was less detailed than other parts of the image.
"Beyond here there is a whole bundle of bits of the design that could well be different once it is finalised, as with the three others," he said. "They [the four options] are images of what could be, they are not necessarily details of what will be."
Auckland City planning general manager John Duthie confirmed the ferry extension was not part of the $97 million option. He said there were also plans costing an extra $5 million to pile two platforms out from Queens Wharf to accommodate large cruise ships.
Mega cruise ships, such as the 345m-long Queen Mary II, are too long for Princes and Queens wharves.
The Queen Mary had to berth among the containers at Jellicoe Wharf on a visit to Auckland last summer.
The Oasis of the Seas, which carries more than 8000 people, stretches to 362m - and larger cruise ships are on the horizon.
Auckland Regional Council councillor Dr Joel Cayford said the hastily planned cruise ship terminal was too small for big ships like Queen Mary II.
"Auckland needs a big picture waterfront vision - not another short-term embarrassment. This is a case of 'build it and they won't be able to come'," he said.
Dr Cayford said Auckland did not need a "world class" cruise ship terminal, just a simple, fit-for-the purpose building.
Feedback to the Herald on the four options showed about 60 per cent of respondents favoured the $97 million cruise ship terminal ahead of one of the three "party central" alternatives.
Some respondents did not like any of the options.