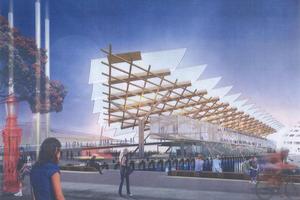 Three options to turn Queens Wharf into "party central" for the Rugby World Cup have been released as an alternative to the $97m grand plan that includes a $49.2m cruise ship terminal.
The Herald published images of the grand plan on Tuesday, and yesterday Rugby World Cup Minister Murray McCully released three short-term options costing $23.9m, $27.7m and $31.3m.
The cheapest option involves removing the two 1912 cargo sheds and creating a cup village with temporary and hired structures.
The $27.7m option involves minor refurbishment of the sheds to provide covered space for the cup.
The $31.3m option involves significant refurbishment of the sheds with a focus on keeping one or both over the medium term.
The three options include landscaping in the shape of a fern at a cost of $1m.
The $97m option, favoured by Mr McCully, has a $49.2m budget for the cruise ship terminal, plus $15.6m for wharf repairs.
A spokesman for the minister said the Government would contribute to the $97m scheme because a cruise ship facility in Auckland would provide a wider benefit to New Zealand.
He said the Government would monitor public feedback on the four proposals and work would continue building a consensus on the best option: "A decision needs to be made in the next few weeks."
Opinion is divided. Waitakere Mayor Bob Harvey, North Shore Mayor Andrew Williams and Auckland Regional Council chairman Mike Lee favour building a terminal.
Auckland City Mayor John Banks and Manukau Mayor Len Brown want to spruce up the wharf for the cup and wait until the Super City is in place in November, when a masterplan can be prepared for the wider Auckland waterfront.
Mr Lee yesterday urged Auckland's mayors to quit vacillating, show leadership and agree to progress development of the wharf.
"I believe Aucklanders are now tired of all the talk ... They want to see some action, not more bickering about whether to proceed with development."
Ports of Auckland - which is not putting any money into the project despite clipping the ticket from cruise ships - and Auckland Chamber of Commerce chief executive Michael Barnett are also keen to proceed with the $97m option.
Heart of the City chief Alex Swney and the Auckland Architecture Association are against the expensive upgrade.