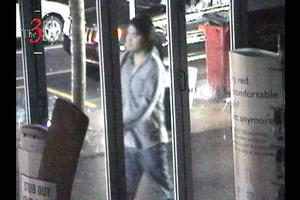 Police hunting the killer of Auckland taxi driver Hiren Mohini have appealed to the Asian community to track down a man considered a prime suspect.
Mr Mohini died minutes after he was stabbed numerous times in his taxi at Mt Eden nine days ago and last week police released security camera footage of an Asian man they said could be vital in the hunt for the killer.
The man was caught on security camera carrying a bag very similar to a blood-stained bag found near View Rd in Mt Eden where Mr Mohini died in a frenzied attack.
The bag carried a distinctive "Dicon Aibi" logo.
Police revealed today the bag contained a distinctive knitted dark cap with a large white logo outlined with three circles.
"The cap has been undergoing forensic examination because it was found in Mt Eden with the blood-stained tubular-shaped blue bag on private property, a day after the murder," said Detective Senior Sergeant Hywel Jones.
"The bag and the cap are of great interest to our investigation and we want to know who owned, used or wore them.
"We're appealing more strongly to the Asian communities in and around the Auckland CBD this week...
"Given that nearly 30 per cent of the central Auckland's population is Asian, it's vital that they know how important it is for us to get any information from them that they might have about Mr Mohini's killer, who is still on the loose."
Mr Mohini had taken a passenger from Federal St in the city about 1.12am on January 31, to View Rd in Mt Eden where he was found by residents after his car crashed about 1.23am.
Police urged anyone with information about the man, the bag or the knitted cap, should call Operation Edgewater on 0800 444 014 or the anonymous Crimestoppers line on 0800 555 111.
- NZPA