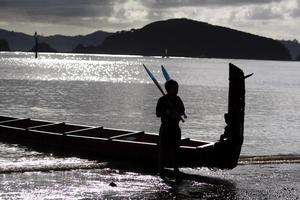 "Whoops" was the explanation Maori Party co-leader Pita Sharples gave for the occasional slip-up in his party's relationship with the National Party.
Dr Sharples and Prime Minister John Key wrapped up their second Waitangi weekend together with consecutive speeches at a special breakfast, where Dr Sharples gave some insight into the inner workings of their governing arrangement.
He referred to his own criticism of national standards in primary schools - a policy the Maori Party had supported and which Mr Key had frantically spent the previous week trying to shore up public support for.
After hearing Dr Sharples on the radio voicing "grave concerns", Mr Key was quick to reach for the phone. Dr Sharples took it as a lesson.
"Sometimes we pass a bill and then we forget we passed it and talk against it. I have to ring the Prime Minister and say, 'Whoops.' Or he rings me. But we are still working together."
Last year, just three months into their new friendship, Waitangi Day was all bubbles and nice for Mr Key and Dr Sharples, striding about arm-in-arm, pointing and giggling. This year, there was still a little bit of giggling. But something was different.
The Maori Party had lost some battles and Dr Sharples did not hesitate to point that out, summing up the state of the relationship and blunting it with humour. He described the past 12 months as a learning year.
"It hasn't been an easy road for us. Sometimes much joy, other times not so much joy.
"But I guess that's what it means to be coalition. We are not the National Party and they are not the Maori Party. We do have different views on things and we are starting to realise where we can work together and give and take."
He pointed to wins: the Maori flag flying alongside the New Zealand flag at Premier House "and hopefully at the harbour bridge if they got over that little hassle about who pulls it up and who says the prayer.
"Maoris, eh? Give them a flag and they argue over who's doing the prayer. That's us," Dr Sharples said.
He praised the progress on Treaty settlements, Maori housing and commitment to the Whanau Ora policy.
"On the other hand, there are things we find hard representing a people 60 per cent of whom are on lower wages.
"Sometimes the monetary bills we have to support are very hard on us."
The Maori Party hoped to be a part of any government, regardless of its leanings. Then he confessed: "Actually, I got so used to the increase in salary I told the Prime Minister you'd better be good because if the other guys get in, I'll go sell myself over there to keep my ministerial salary. I just got a new house, man - I can't afford it on a backbencher salary so I'm up for grabs." Whoops.
SEE ALSO
Photo essay - A20