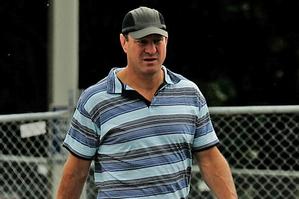 Ex-All Black Robin Brooke has come face-to-face with the teenage girl he allegedly groped at a luxury Fiji resort on New Year's Eve.
Meanwhile, his 4-month-old baby Rymer has been discharged from Tauranga Hospital, where she spent more than a week with serious breathing problems.
Rymer was discharged on Thursday but Brooke and wife Hayley did not want to comment on the condition of the youngest of their four children.
Their lawyer Rachael Adams said the couple wanted privacy. "Their immediate focus is with their little daughter."
Adams confirmed Brooke attended a meeting this week with the 15-year-old whose backside he allegedly grabbed several times by the pool at the Hilton Fiji Resort & Spa on Denarau Island.
Members of the girl's family were also present. Adams and the girl's lawyer Peter Tomlinson were tight-lipped about the meeting, refusing to say when or where it took place, and who attended.
"I can confirm that there was a meeting this week between the families," said Adams.
"The matter is progressing and all parties are acting very responsibly. That is all that can be stated at present."
Tomlinson said it was a "proper formal meeting" but there was "no more to be said until things can be resolved".
He was hopeful it would be "soon".
Fiji police are investigating the allegation and another, that Brooke assaulted 17-year-old Jordan Whittaker, when he stepped in to help the girl.
Jordan claims Brooke threw him on a deckchair, grabbed his throat and threatened him.
His lawyer Peter Lowing has filed a civil law suit against Brooke in Fiji's High Court, seeking $200,000 in damages.
In a press release sent to Lowing's office last week, Adams said Brooke was "naturally distressed" by the situation and would "strongly contest" the civil suit.
She has advised him not to speak to media or the teenagers' families while the police investigation and legal proceedings are ongoing.
Fiji Sergeant Suliana Tevita said last week the police inquiry had finished and the file had been handed to the Criminal Investigation Department, which would decide whether to charge Brooke.
Tevita did not respond to emails requesting an update on the case.
Brooke's manager Sara Tetro also failed to respond this week. Her car was seen at his Tauranga home last week, but she was back in her office at 62 Models in Auckland on Friday.
Tetro is married to former All Black Craig Innes and the couple were in Fiji with Brooke and his wife over New Year.
It is understood Innes was drinking with Brooke at the Sheraton Villas several hours before the alleged assaults.
Brooke ended up in a woman's strapless bra and g-string after a series of dares.