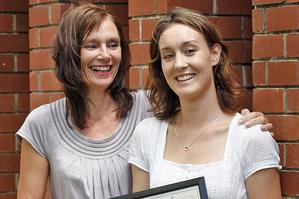 Cara Redhead says the man who chased and groped her messed with the wrong girl.
She was walking home from a Browns Bay bus stop one night last year when he raced up behind her and grabbed her breast.
"He turned the corner and he crossed over and started speeding up and speeding up," the 22-year-old Briton said.
"I moved to the side and he grabbed my boob, so I shouted, 'What ya doing, ya weirdo'."
The man sprinted off as she screamed at him.
Unsure whether to laugh or cry, Ms Redhead raced home and told her mother, Joy, who was furious and vowed to hunt him down.
The pair jumped in the car, not knowing Ms Redhead was one of a long line of victims.
Police were hunting a serial groper.
Six other women had been assaulted in the same way and no doubt many more assaults were unreported, Inspector Les Paterson told the North Shore police awards ceremony yesterday.
The young man had come to New Zealand from Japan on a student visa and had preyed on young women like Ms Redhead when they got off the bus.
Within minutes, the mother-daughter team spotted the groper and called police, before pulling over.
"Mum was like, 'How dare you grab my daughter'," said Ms Redhead, laughing.
"Don't mess with a Yorkshire girl, eh."
Mr Paterson said that without the pair's brave actions, the man would have carried on attacking women.
"It prevented a lot of further victimisation," he said, in presenting certificates of commendation.