Schools battle lying parents who fake enrolment forms in a bid to have their children attend the best school possible.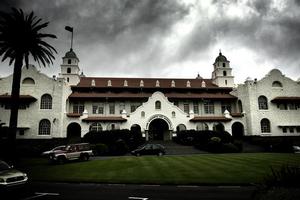 Spy tactics are paying off as one of New Zealand's top schools bids to thwart zone cheats who fake enrolment details.
Staff at Auckland Grammar take down parents' licence plate numbers at the school gate and check them against addresses to catch out imposters.
Enrolment registrar Deborah George said it was an "ongoing business" ensuring students were living in the correct zones.
Parents had to hand over phone and power bills, mortgage or tenancy agreements and even bank statements to prove their address falls within the zone.
"We ask for a phenomenal amount of information to satisfy ourselves. We're quite invasive in what we ask for and 98 per cent of people are comfortable with it and understand."
The stringent measures do not end after enrolments close. Throughout the year the school monitors pupils to ensure they have not moved out of zone, and, in the case of foreign students, check their visa-holding parents have not left the country.
George continued: "We know when they have gone because the boys start coming to school late. We can never afford to take our foot off the pedal."
The techniques appear to be working. George said about a dozen families had cancelled their applications, possibly because they were afraid of getting caught trying to cheat the system.
Across the harbour bridge, on Auckland's North Shore, Rangitoto College principal David Hodge said the school had seen an increase in the number of families who move into the zone just long enough to enrol their child, before moving out again.
Like Grammar, the school has asked students to leave if they have been caught using such a technique.
One suspicious address given by a family turned out to be an empty section when the school went to investigate.
"We have to try to be fair and rigorous," said Hodge.
Dave Randell, principal of Otumoetai College in Tauranga, said despite reaching their quota of 1880 students they were still being "inundated" with requests from parents who live outside the zone.
One family even moved into a hotel within the zone and tried to claim they were living there.
Randell said parents also tried to use "emotional blackmail", by claiming their child was being bullied to get them transferred.
At Epsom Girls Grammar in Auckland, enrolment officer Wendy Smith starts checks months before the start of the new school term.
Smith said the demands for proof of address stop many parents from trying to lie about where they are living.
"We would like to think our processes are robust enough to head them off before we get to that situation."
The process has left 300 out-of-zone students on the school's waiting list.
Demand for places is equally intense at Wellington College.
Enrolment officer Lynda Woods said 169 year 9 students were on the out-of-zone ballot at the start of this school year.