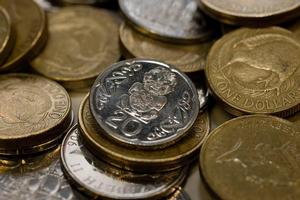 The Government says its 25 cent increase to the minimum wage - about $10 a week - is all that can be afforded, but unions say it is miserly and the Labour Party want it set at $15.
Labour Minister Kate Wilkinson said increasing the wage from $12.50 to $15 would have constrained new job growth by between 5400 and 8100 positions.
The increase to $12.75 was in line with the Consumer Price Index which was the same method the Government used last year, she said.
The training and new entrants' minimum wages, set at 80 per cent of the adult minimum wage, would increase from $10 to $10.20 an hour.
Every year the Minister of Labour reviews the minimum wage, received by 87,400 workers but the figure is closer to 100,000 when those on a few cents more than the minimum are counted.
"My decision was based on the need to find a balance between protecting jobs and ensuring a fair wage," Mrs Wilkinson told reporters this afternoon.
"The advice that I received was that raising the minimum wage to $12.75 was unlikely to constrain job creation but to go higher could prevent employers from taking on new staff and potentially putting pressure on some existing jobs."
The Government wanted to provide the right environment for economic growth, she said.
The new rate will come into effect on April 1.
Labour MP Trevor Mallard this morning said he would put up a member's bill seeking the increase to $15 and this afternoon slammed the 25 cent increase as "miserable".
The increase barely kept up with inflation and when the recently increased ACC levies were factored in the $10 a week increase would be seriously dented.
"So much for catching up with Australia," he said.
Last week, the New Zealand Herald surveyed 2300 people on the issue, with 61 per cent supporting a rise to $15.
Mr Mallard said there were equity and productivity arguments supporting the increase.
Mrs Wilkinson said Labour did not increase the minimum wage to $15 when it had the chance and while Labour had given some increases there were years when they were similarly modest.
"It shouldn't be seen as an automatic increase because we have to look at all of the factors and at the moment it's tough out there...
"We would love the minimum wage to be $15 an hour if it was sustainable and it didn't result in job losses. (But) that's about a 20 per cent increase. Many New Zealanders out there have had a nil increase."
The Government did not want to put barriers in the way of employers hiring new people and wanted to protect existing jobs and ensure workers did not see hours reduced.
Mrs Wilkinson revealed that officials had put up five options to consider. They were:
* nil - "an option favoured by many businesses";
* $12.75 - linked to CPI,
* $13.10 - equating to the increase in the average wage which was estimated to constrain job growth by between 400 and 900 positions.
* $15 - "which did not have much of a rational basis" and would cost between 5400 and 8100 new positions.
* and $16.75 - "which is two thirds of the average wage.
"That's a huge increase and we didn't consider that one at all."
The Government had been lobbied to consider a reduced rate. "We had no intention of cutting the minimum wage," Mrs Wilkinson said.
She said the modest increase would still have an impact on businesses, especially in the hospitality/retail industries, and would cost employers about $52 million more a year.
The Council of Trade Unions (CTU) and several union groups condemned the increase.
CTU president Helen Kelly said the rate might not even cover inflation. The average wage rose 2.8 per cent in the six months to September last year.
"This decision will leave low paid workers even further behind. We need to be reducing income inequalities not increasing them."
Business NZ chief executive Phil O'Reilly said the increase was reasonable and the Government had to consider what businesses could bear.
"Too high an increase could be a break-point for those already struggling with slim margins and low demand."
Mr Mallard said his bill sought to increase the rate to $15 over two years, up to $13.75 from March and then $15 next March.
Members' bills - generally opposition MP bills - are considered fortnightly on a Wednesday when Parliament is sitting. Bills are drawn from a ballot so some can languish for years and once they are drawn seldom get further than a first reading unless the Government decides
- NZPA