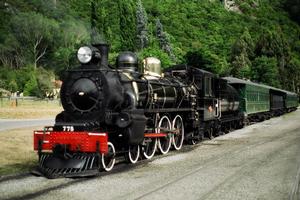 Shooting for a major Bollywood film in Queenstown has been disrupted by a legal dispute over the Kingston Flyer steam train.
Financial difficulties stopped the train from running last April, and the company which owns it, Kingston Acquisitions Ltd, was placed into receivership in November, owing $4.7 million plus interest.
Phil Kerr, who used to run the train as a tourist attraction, was served with a trespass notice last month, preventing him from using the train.
The receivership has thrown a spanner into the works for plans by Indian company Dharma Productions to shoot a scene for its feature film I Hate Luv Stories in front of the train on Wednesday, the Southland Times reported.
The train was sitting in a yard less than 50m from Kingston station, where it needed to be dragged to shoot the film scene.
The only company with a licence to tow it into place was Kerr's Kingston Flyer Steamtrain Ltd, which was also barred from touching it.
Christchurch-based line producer Uma Singh said losing the location was a "nightmare", and could damage New Zealand's reputation as film destination within Bollywood.
It was the first time Dharma Productions had come to New Zealand, hosted by Tourism New Zealand, and its producer was "very upset" about losing the train scene.
Up to 12 film crews had visited the Kingston Flyer in past years to shoot for films and commercials aired around the world.
Filming for I Hate Luv Stories began in Queenstown on Thursday.
- NZPA