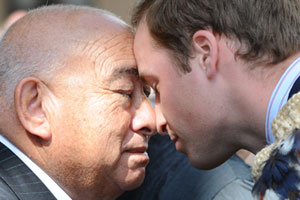 Prince William finished his first official engagement in Wellington, laying a wreath dedicated to the armed forces at the National War Memorial.
The prince's Air Force plane landed in Wellington about 9.40am, following fears that his flight would need to divert to the Air Force base at Ohakea, near Palmerston North.
Only one other flight had been able to land at the airport this morning, with others diverted to Palmerston North Airport.
The prince arrived at the memorial around 10.10am, and stood on a podium while the military band played part of 'God Save the Queen'. The Air Force, Navy and Army royal guard saluted him.
Walking with his arms behind his back and wearing a double-breasted suit, he reviewed two lines of troops, coming within metres of the assembled bystanders.
In the distance echoed a 21 gun salute fired from Government House as an expectant crowd of close to 100 people watched and whispered.
"He walks like his father," a bystander said.
Afterwards, accompanied by Prime Minister John Key and National War Memorial chairman David Ledson, the prince was introduced to military dignitaries while walking up the memorial steps and in the memorial entranceway.
Inside the memorial, where an armed military guard was stationed along the walls, the prince laid a wreath below.
Written on the wreath was: "In deep respect and grateful memory of the men and women of the armed forces who have sacrificed their lives for New Zealand and for freedom."
He stood at attention in silence, a head taller than Mr Key, as prayers were read out.
Outside bystanders clicked their cameras - one woman having climbed a tree for a better vantage point - and children waved as he emerged from the memorial with a single rose held to his chest.
After laying the rose on the Tomb of the Unknown Soldier, and standing back with a bowed head, a shot of sunlight came through the clouds.
Prince William left around 10.35am, going on to represent the Queen at the opening of the new Supreme Court building.
This afternoon he is visiting Kapiti Island wildlife sanctuary to see a little spotted kiwi, and endangered species, later will be at a barbecue hosted by Mr Key at Premier House.
He will leave for Australia tomorrow.
- with NZPA