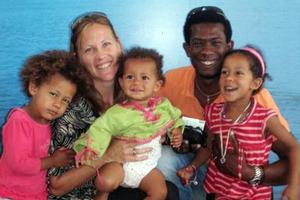 The New Zealand woman whose young daughters are missing in Haiti has been evacuated to the neighbouring Dominican Republic with her youngest child.
Earlier today Emily Sanson-Rejouis' two-year-old daughter, Alyahna, was found alive. There has been no sign of Ms Sanson-Rejouis' five and three-year-old daughters.
The New Zealand expat was at work in Port-au-Prince when yesterday's earthquake struck. When she returned to the hotel where her husband and children were staying, she found it had collapsed.
Her French-Haitian father, Emmanuel, was earlier thought to have been found dead but family said later today that this had been a "miscommunication" and his status was unknown.
Foreign Minister Murray McCully said in a statement that two members of the family had been found alive. The Ministry of Foreign Affairs later said Mr McCully was referring to Alyahna and her mother Emily Sanson-Rejouis, 37.
Two other children remain trapped. Mrs Sanson-Rejouis, 37, put a distraught call to family in New Zealand via satellite phone last night, saying her husband and their three young New Zealand-born children were missing in Port-au-Prince and she was struggling to find help among the chaos.
Click here to see how to donate to victims of the quake.
Emily's Auckland-based step-sister, Caroline Larnach, told Radio New Zealand this morning that her two-year-old niece, Alyahna, had been pulled alive from the rubble.
She said the girl had one broken leg and "the other may be broken as well".
Mr McCully said Mfat was doing all it could to assist the Sanson-Rejouis family and was putting plans in place to provide consular assistance to New Zealanders in Haiti.
"We are looking at sending someone to the United States to be ready to go to Haiti when conditions allow. However Haiti's airport is currently closed, and there is no indication when it will re-open," he said.
"We are continuing to work with our consular partners (US, Canada, Australia, France, UK) and international organisations (UN, Red Cross) on the ground in Haiti to see what immediate assistance they can provide.
Father still unaccounted for
Ms Larnach said she understood that Emily's husband, Emmanual had been found dead but her brother, Jamie Larnach, said this afternoon that this was a "mis-communication". He said the family had only managed to receive two short messages from Haiti.
Newstalk ZB reported this morning that Alyahna was found under her father's body.
Ms Larnach told Radio New Zealand that she had spoken to her sister three times and each time she had asked for emergency services to help dig her family out of the rubble.
"There's a New Zealand family there and we know where they are.
"We need emergency services right there to that spot to help a New Zealand family," Ms Larnach said.
Mr Larnach said the family were using social network sites to appeal to emergency services and non-government organisations to help.
The Sanson-Rejouis family had been staying at the Karibe Hotel, Juvenat 7, in Petion-ville.
"That's where they are. If anyone can get there to help, we would appreciate it," Mr Larnach said.
Mr Larnach said Helen Clark was helping in her position at the United Nations.
"We're trying to get in touch with agencies over there to consider the girls," he said.
Mr Larnach said it was not clear if Alyahna had been able to see a doctor.
"We don't know anything, we've only had one simple text," he said.
The magnitude-7 quake yesterday toppled buildings in Port-au-Prince, sending clouds of dust and smoke billowing into the sky.
Offices, hotels, houses and shops collapsed, and the gleaming white presidential palace lay in ruins. Bloodied and dazed survivors gathered in the open.
The jolt buried hundreds, possibly thousands of people under rubble and numerous powerful aftershocks rattled the city into the night.
New Zealanders with concerns about the welfare of family in Haiti should telephone the Ministry of Foreign Affairs and Trade on 04 439-8000.
- NZPA, NEWSTALK ZB, NZHERALD STAFF