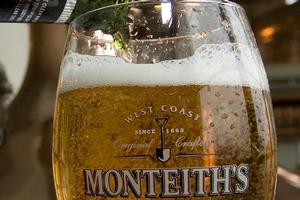 The Human Rights Commission has warned a newly-opened Kapiti Coast bar over its ban on admitting under 20-year-olds, after young drinkers ruined the drinking establishment's opening night with bad behaviour.
The commission told Jamie Williams, owner of the $2 million Monteith's Brewery Bar' at Paraparaumu, he could not discriminate against which customers he chose to let into his bar based on their age, the Dominion Post reported.
"While bars have the right to refuse entry they should be careful not to do so on the grounds of age, sex or ethnicity," commission spokesman Gilbert Wong said.
Mr Williams said he would prefer not to have under-25-year-olds in his bar, but had settled with making them sign good behaviour contracts. About 30 had signed up so far, and the bar had also increased security, he said.
"If we could [ban them] we would... It's fair to say young people will probably come under a bit more scrutiny."
On the bar's opening night, Mr Williams said some of young people urinated in corners of the garden bar, held a spitting competition on a television above a urinal, got into fights, and smuggled in their own alcohol.
- NZPA