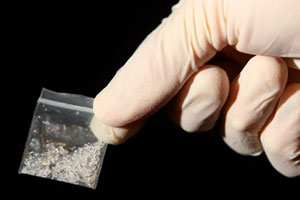 A chemical which could help make nearly $1 billion worth of the drug methamphetamine, or P, is still missing, nearly a year after it was stolen.
One thousand litres of hypophosphorus acid, a key ingredient in P manufacturing, was stolen from a Mt Maunganui factory in January - the biggest theft of its kind in New Zealand.
The acid was worth at least $1 million on the black market and had the potential to make 900kg of P, worth about $900 million, the Bay of Plenty Times reported.
Details of the January raid on a Mt Maunganui factory were revealed at the sentencing of Tauranga beneficiary Terrence Rangihouhori Tata, 36, in Tauranga District Court this week.
Tata, who had admitted one charge each of burglary and conspiring with others to supply the precursor material knowing it was intended to be used to manufacture methamphetamine, was jailed for five years by Judge Peter Rollo.
In January, Tata joined three alleged accomplices and used bolt cutters to de-activate security lights and used a forklift and the bolt cutters to get into a shipping container which housed a drum containing the 1000 litres of hypophosphorous acid, the court heard.
It was worth $8000 to the company but had a street value on the illicit drugs market of at least $1m.
Its potential to help in the manufacture of P was substantially greater if combined with other precursor ingredients.
Crown prosecutor Catherine Harold said police analysis of text messages Tata had sent before and after the raid - including one he sent the day after to a potential buyer - showed he had been an equal participant in the conspiracy.
But Tata's lawyer Tony Balme argued that while his client admitted he was a crucial player, the evidence did not elevate his role to one of being the instigator or mastermind.
Judge Rollo said he was satisfied from the evidence, including Tata's admissions that he had provided the truck and disposed of it after the raid, that Tata had been an equal partner in the enterprise.
The acid has not been recovered.
Tata's alleged accomplices are defending the charges against them.
- NZPA