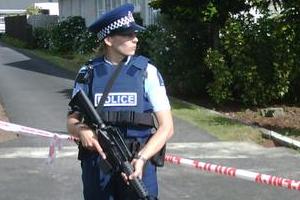 Police have recovered two guns and are talking to one person of "significant interest" after an officer was shot during a routine patrol early this morning.
The 28-year-old constable is undergoing surgery at Middlemore Hospital after being dragged out of danger by armed police after the shooting in Buckingham Crescent, Papatoetoe, about 4.10am.
Superintendent Mike Bush said police had found two guns near the scene and were still looking for an offender.
"We are talking to a number of people, one person of significant interest. This person was located close to the scene. We are trying to establish what role he played within the incident.
"It is believed that there may still be one more offender outstanding," Mr Bush said.
All police at the scene are armed and the streets around Buckingham Crescent and Allenby Road remain cordoned off.
Mr Bush earlier told a media conference in Manukau that there was a possibility the missing offender could be armed.
He said the constable and another officer were on a routine patrol when they saw a vehicle in a driveway with its hazard lights on.
"Thinking the vehicle may be being interfered with they approached the vehicle and got out to have a look.
"One of the officers was fired at from the darkness," he said.
Mr Bush said the officer had injuries to his elbow and leg and lost a lot of blood.
His colleague called for back-up and armed detectives and constables arrived "shortly thereafter" and dragged the wounded officer to safety before rushing him to hospital.
Mr Bush said the constable was "extracted" because police did not know if the gunman was still on the scene or what danger they may have faced from further gunfire.
"I applaud that decision, and I think the actions of the six or seven staff that went in as a team to extract the constable were also very brave actions," he said.
Assistant Police Commissioner Viv Rickard visited the scene of the shooting today and also said the decision to go in and rescue the wounded police officer was gutsy and brave.
"Our person on the ground (the officer in charge) makes an assessment of what's before him and at that stage made an assessment that the action to take was to move forward," he said.
"It is gutsy. We saw that in Napier [when police officer Len Snee was shot dead in May] and in other places throughout New Zealand in the last 12 months and we have seen it again here again today."
Mr Rickard said rescuing a fallen colleague without knowing the location of the gunman was "pretty brave.
"It was pretty gutsy and I am pretty proud of what they have done."
Mr Bush said the wounded officer's family were with him at Middlemore Hospital where he was undergoing surgery and said to be in a stable condition. The officer had graduated from Police College a year ago.
Radio New Zealand reported that residents were placed in lock-down and heard helicopters circling the area for several hours.
The broadcaster said residents had been allowed to come out from their homes behind the cordons after 7am.
A Middlemore Hospital spokesman told 3News they were on standby to receive more patients, while a spokeswoman for St John Ambulance said police had asked them to remain at the scene until the situation was resolved.
- With NZPA