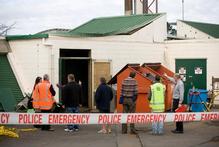 An Auckland secondary school today said it would vigorously defend any charges it might face over a fatal boiler explosion in June.
Orewa College caretaker Richard Nel died after receiving burns to 90 per cent of his body, while contractor Robin Tubman is still recovering from serious injuries he suffered.
Board of trustees chairman Phil Pickford said the school was aware the Labour Department was considering a prosecution against the board under the Health and Safety in Employment Act.
The exact charge had not been confirmed to the school, but if one were laid, "we will defend it vigorously and rigorously".
A spokesman for the Department of Labour refused to confirm or deny that any charges against the school had been laid.
"All I can say is that investigations are continuing," he told nzherald.co.nz.
Mr Pickford questioned the delay in the department's decision, noting that the deadline was about to be reached.
"On December 24 it will be six months since the tragedy and here we are at the 21st," he said.
"They have to prosecute within six months and they have left it to the last minute. Why? I could surmise why, but I'm sure there's another way they could have done it."
He said uncertainty over the issue had been unsettling for the school.
"At the end of the day, it was a tragedy," he said.
"Someone died and someone else was seriously injured, and the school would not have wished that on anyone."
The Dominion Post newspaper reported today that the college would be charged with failing to provide a healthy and secure workplace.
Employers are required by law to maintain safe working environments for their staff.
A Labour Department spokeswoman said that, under department policy, there would be no comment before a charge was laid.
- NZPA, NZ HERALD STAFF