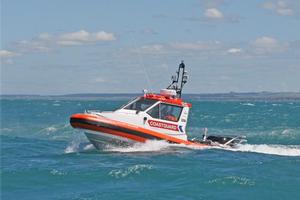 Four people, including a child, have been rescued after spending all night sitting on top of their capsized boat off the Taranaki coast.
The Waverley mum and dad, their 10-year-old son and a family friend went fishing off the local beach yesterday afternoon.
They were on a 16ft Stabi-Craft, a pontoon-type boat, police said.
Locals noticed their car and empty boat trailer were still in the car park at 7am today and raised the alarm.
An air and sea search was launched immediately, and the capsized boat was found around 9.30am. The four rescued people are now all in Wanganui hospital in stable condition. They are not injured but are being treated for exposure.
Police estimate they spent more than 17 hours on their upturned craft.
The sea conditions were fair yesterday but had deteriorated this morning.
"These people are very lucky to be alive considering their ordeal", said police Search and Rescue co-ordinator Senior Sergeant Darcy Forrester.
"Choosing a pontoon boat probably saved them as it is almost impossible to sink this type of boat", he said.
"Other saving graces were the fact that they were wearing life-jackets and the other boaties who saw them yesterday afternoon were able to give us the coordinates of their last known location. This helped us greatly in focusing our search.
"It was an excellent team effort this morning with a huge number of resources ensuring a prompt response once the alarm was raised", said Senior Sergeant Forrester.
- NEWSTALK ZB, NZHERALD STAFF