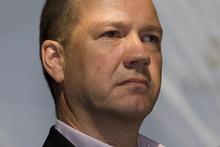 Hanover director Mark Hotchin fronted up to angry investors in Auckland flanked by at least three security guards.
Some 400 people asked heated questions of company directors at the meeting to discuss the $400 million deal put up by Allied Farmers.
Independent director Des Hammond said he was not sure how many security guards had been hired to protect Hotchin but said the company wanted an "orderly meeting".
Asked why the guards had been hired, Mr Hammond said they were hired to also protect investors from themselves. He said some investors had fallen over chairs.
At one point a security guard stood between Hotchin and a group of investors who wanted to ask him questions.
Mr Hammond was also asked why Hanover director Eric Watson had not turned up to shareholder meetings.
"All the credit to Mark [Hotchin] for fronting. He's not going to get an award for fronting but he had the guts to do it," he said.
Mr Hammond said he has been on the Hanover board for six months and was yet to meet Watson.
During the meeting, one investor stood with her hands on her hips and called on Hanover head Mark Hotchin to sell his multi-million dollar house on Paritai Drive.
"Sell your houses and pay it back," she yelled out.
Others yelled abuse as Hotchin addressed investors telling them that the market had "turned and turned a long way".
He encouraged investors to vote for the $400 million deal put up by Allied Farmers and said if they went for the receivership option they would lose a lot of money.
One lady yelled: "And you walk off scott-free".
Another Hanover investor asked if shareholders would be putting up money and more assets.
The question was first answered from the floor: "Dream on" and: "No, they're too greedy for that".
Hanover chairman David Henry replied that Hanover shareholders had already put up $76m.
"Shareholders have done something that they didn't have to do," Mr Henry said. His answer provoked a burst of laughter.
Hanover investors have lost millions and some at today's meeting said they'd lost their life savings.
Des Hammond told investors that they would be better off if they were patient.
"Oh, come on," one lady from the floor replied.
Mr Hammond said Allied Farmers had the potential to add value to Hanover's investments.
He said Allied Farmers would be able to use the proceeds to grow their business and benefit Hanover investors who would become Allied Farmer investors under the deal.
Mr Hammond said an independent report from Grant Samuels called the deal "superior" when compared to the moratorium that Hanover investments are currently facing.
He said he regrets that Hanover investors are being asked to write-off part of their initial investment. Someone replied from the floor: "Yeah right you do,"
Allied Farmers chairman John Loughlin said the proposal was put forward "to try and be constructive".
"We realise it is not a perfect deal but it is not a perfect situation," Mr Loughlin said.
He was told by one investor from the floor that the deal should be put up for the "greatest illusion of the decade". The man told investors that Allied Farmers shares had been worth $3 but are now worth 30 cents.
Mr Loughlin replied that the deal was not a "walk in the park" but if Hanover investors were patient then they will get value.
Hanover investor Tom Brosnahan said he opposed the deal with Allied Farmers.
"Given ther performance in the past, probably the [share] price is going to plummet," Mr Brosnahan said.
He said he was "frustrated by the waffle" at today's meeting and many of his questions were still unanswered.
Mr Hotchin was abused yesterday at briefings in Tauranga and Hamilton, where he and directors from Hanover and Allied Farmers spoke to hundreds of elderly investors.
The rural services firm is proposing to swap shares for Hanover's loan books in a deal that would give Hanover debenture holders a return of 78c for every dollar invested.
By Edward Gay @edwardgay

Email

Edward