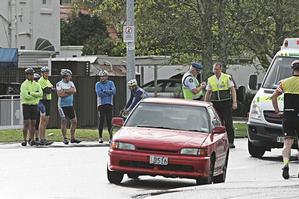 A young woman motorist who knocked down four cyclists on Auckland's Tamaki Drive, badly injuring one, has pleaded guilty to four charges of careless driving.
Jennifer Speakman, 20, pleaded guilty when she appeared in Auckland District Court today.
Judge Thomas Everitt remanded Speakman at large for sentencing on February 17.
Her lawyer Frank Hogan told the court Speakman was sorry she failed to see the cyclists.
Police alleged she knocked down and injured four cyclists among a group of 20 on Tamaki Drive on Auckland's waterfront on September 26.
The badly hurt cyclist, Greg Paterson, received head, neck and chest injuries and was in a critical condition for several days after the incident.
Police said Speakman failed to stop at a stop sign and hit the group of recreational cyclists.
Barbara Cuthbert, spokesperson for Cycling Action Auckland, told NZPA outside court that drivers maiming and injuring cyclists on Tamaki Drive were a huge problem.
"The only thing I care about is stopping it," she said.
- NZPA