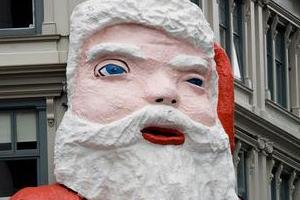 Santa's infamous winking eye may have been transplanted, but it's set to live on under a new vision.
The dodgy eye from the giant Santa which has been replaced this Christmas is for sale on Trade Me.
Sculptor Damien Kutia of Bootleg Design was responsible for giving Santa his facelift.
Kutia, 26, said the infamous winking eye took about an hour to remove with an angle grinder. It then took eight days to remake Santa's face.
The job was so big the West Auckland firm had to hire a studio in Royal Oak that was big enough to fit Santa.
"We couldn't fit the head through the door of our shop. Even just his head was the size of a large room."
After the facelift, Kutia took the eye home. "I thought that it shouldn't be thrown out, it's too memorable to throw away, I am going to keep it."
Unsure what to do with the eye, it has lived in his room for a few days.
"There's a giant eye at the end of the bed," he joked.
He estimates the eye weighs between 10 to 20kg, and is 80cm long and 67cm wide. Bidding for the eye on Trade Me has reached $103 but Kutia is confident it will reach a higher price when the auction closes on Saturday.
He plans to donate the money to a children's charity.
The 25m-high Santa has been a Christmas fixture on the corner of Queen and Victoria Sts since 1998.
In its heyday in the 1960s, he was attached to the Farmers store on Hobson St.
But Santa fell out of favour because of his strange eye and beckoning finger, and last year Heart of the City's Alex Swny criticised his "seedy actions".
- HERALD ON SUNDAY