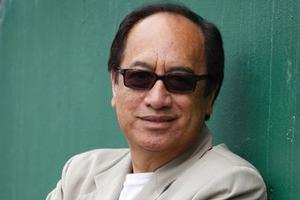 The reviewer who detected author Witi Ihimaera's plagiarism thinks the author should re-write the book.
Listener reviewer Jolisa Gracewood, who discovered the unattributed material in Ihimaera's novel The Trowenna Sea, said today there were more examples of plagiarism than the 16 examples with which the magazine went to press.
She told Radio New Zealand the novel would always be overshadowed by the aura of cut and paste.
Ihimaera admitted tracts of the novel had drawn on work from other writers without acknowledgement and this week he said he was buying back all remaining stock of the novel and planned to republish it.
The edition would contain a new section by the author explaining the background and making full acknowledgement to writers whose work had been drawn on.
"I have taken this step to preserve the mana and integrity of the novel," Ihimaera said.
"Although I have already made the relevant apologies and have publicly undertaken to fully audit the book myself, it seemed appropriate to remove the first edition immediately and begin working on a corrected second edition."
But Gracewood said she did not think that was good enough.
"I think the entire book should be re-written not just because of the plagiarism, and, by the way, 16 examples are what we went to press with, but there are more," she said.
"We stopped looking when we had to go to press with the original Listener story, since then I've looked again, I don't know if other people have looked as well, but there were certainly more examples."
Ihimaera is a professor of English and distinguished creative fellow in Maori literature at Auckland University.
An investigation, which followed university guidelines for conduct of research, found there was no deliberate wrongdoing by Ihimaera.
Gracewood said she thought the university had acted very swiftly when the learned of the plagiarism.
"Universities are not know for their swiftness in most cases, so it was a pretty quick decision they came to that there was really no problem ... so I would expect them to go back and have another look at that," she said.
Criticism of Ihimaera's plagiarism has been mounting, with it being compared to drug cheating in sport because of the unfair advantage it gave over contemporaries.
Award-winning author and poet Vincent O'Sullivan, an emeritus professor of English at Victoria University, told the Herald the drugs analogy was fair.
"It's a performance-enhancing technique that works at someone else's expense," he said.
"Apart from the personal ethical issues involved, plagiarism gives an unfair advantage over contemporaries and colleagues."
He said accidental use of unattributed material was understandable, but university staff should be held to the same level of accountability as students.
Auckland University emeritus history professor Keith Sorrenson told the newspaper that Ihimaera plagiarised his work in the award-winning novel The Matriarch and later apologised to him.
He said the latest row showed Ihimaera had "learnt nothing" from the earlier incident.
Prof Sorrenson said he was annoyed that Ihimaera had been named as one of five Arts Foundation laureates and had received a $50,000 donation.
"It was awarded for a body of literature which included The Matriarch. It's not just this latest book. He doesn't seem to have learnt anything because he's done it again."
Earlier author C K Stead also weighed into the debate and criticised Auckland University for downplaying the plagiarism.
Also a professor emeritus at the university, Prof Stead said the situation would reflect badly on the university until the seriousness of what had happened was acknowledged.
- NZPA