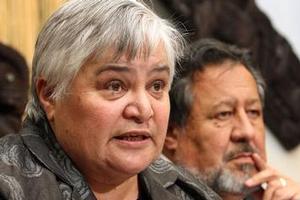 Maori Party leaders have made it clear Hone Harawira will be pushed if he refuses their request to resign.
They say his actions have had a devastating effect on the party and he has refused to be accountable to the caucus or the party.
Party president Whatarangi Winiata yesterday asked Mr Harawira to resign at a four-hour meeting over the controversy the MP caused by taking a trip to Paris while on public duties and writing an expletive-ridden email that went public.
Professor Winiata said Mr Harawira's actions had had a "devastating effect" on the party and his fellow MPs.
He made it clear the decision was not based solely on the Paris incident and the email, saying Mr Harawira's actions showed he believed he was accountable only to the people of his Te Tai Tokerau electorate.
"If Hone believes he is not accountable to the Maori Party or its leadership, or the party caucus in Parliament, then clearly he has placed himself outside the party."
Mr Harawira said he had no intention of leaving the Maori Party, and the suggestion that he resign was "the silliest idea I've ever heard".
But Dr Winiata and co-leader Tariana Turia have made it clear it will take a lot to dissuade the party from pushing him if he refuses to go.
Asked if Mr Harawira would be expelled if he did not resign, Mrs Turia said that was ultimately up to him.
"But I don't think Hone will want to change how he is, and I don't think he will change how he is. This is not just about a jaunt to Paris or bad language. It's been an ongoing issue and it's reached its end, very sadly."
She said it had become obvious the party leadership had no other option.
"I think we will all be feeling as if we've let each other down by not being able to manage this situation. But in the end, we had to be honest with ourselves that we couldn't manage it."
After the meeting, Mr Harawira said he believed the issues could be resolved without his having to resign and become an independent MP.
"I think the party is the way forward for Maori and there are actions we need to resolve within the caucus and within the party, but I have no doubts that that's where my future lies."
He has two weeks to talk to his supporters and to try to talk the party leadership around.
Yesterday, Te Runanga o te Rarawa chairman Haami Piripi said the move would be "political suicide" for Mr Harawira and the Maori Party.
It would mean the party had effectively cut off Te Tai Tokerau, and while Mr Harawira was outspoken and assertive, he would not get much done as one person.
Although the leadership is concerned about the situation, Te Tai Tokerau electorate chairwoman Rahuia Kapa said Mr Harawira had her full support.
Prof Winiata's suggestion that the MP should leave the party had come "out of the blue" and was inconsistent with its constitution, she said on Radio New Zealand.
Mrs Turia said the leadership had not let the political toll on the party of losing Te Tai Tokerau be a factor when deciding on the action.
It had not yet considered whether it would stand someone against Mr Harawira if he forced a byelection or at the next general election.
- With NZPA