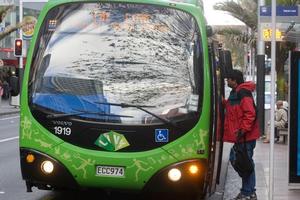 A single ticket that can be used on Auckland buses, trains and ferries, and in the long run, around New Zealand, is a step closer.
The New Zealand Transport Agency (NZTA) has approved an undisclosed amount of funding for the development of the Auckland Regional Transport Authority's (ARTA) integrated ticketing and fares systems.
It has also agreed to establish a national ticketing programme for public transport in New Zealand.
Similar to London's Oyster and Hong Kong's Octopus systems, integrated ticketing makes public transport easier to use by allowing passengers to travel across a city using different modes of public transport with a single ticket.
NZTA board chairman Brian Roche said that as a first step in the development of the national ticketing programme the board had approved funding for the Auckland Integrated Fares System, including the development of a core central ticketing system.
"We are investing in a strategic asset that will provide a world-class integrated ticketing solution for Auckland and form the backbone of an efficient, high-quality and value for money national ticketing programme for public transport in New Zealand," Mr Roche said.
Control of the central system would give the NZTA a valuable source of data to inform future investments in public transport, he said.
The NZTA will also be responsible for setting the technical standards for operation to be met by all equipment suppliers, transport operators and regional councils.
The system would be flexible enough to allow future technologies and electronic ticket providers to connect to the central system, provided they met the technical standards defined by the NZTA, he said.
Individual public transport operators will be able to decide which electronic ticketing equipment best meets their business needs.
Mr Roche said the funding approval was provisional and subject to a number of conditions.
The NZTA board would not disclose how much funding it had given ARTA while it was negotiating with its preferred tender, he said.
"We're investing public money in a long term strategic asset, and we're committed to ensuring that we get the best possible return on that investment."
- NZPA