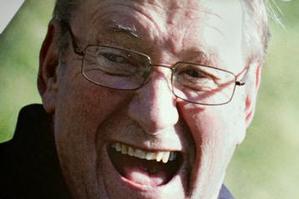 The hit-and-run driver who left a North Shore doctor dying on the side of the road last week may be showing signs of nerves, say police.
If the driver knew he had hit cyclist Graham Robinson he would be showing some signs of nerves and police needed to speak to him, police said.
Good information was flowing in from the public but they needed more to track down the driver who struck Dr Robinson and catapulted him over the handlebars of his bicycle, police said.
Dr Robinson, 62, from Mairangi Bay received fatal head injuries when he hit the kerbing, as a white or off-white Toyota utility sped off last Wednesday.
He was training for a charity ride from North Cape to the Bluff in February to raise funds for heart research.
He had been riding on Peak Rd, near Helensville, northwest of Auckland, with another doctor when the car struck.
His companion worked frantically to keep him alive and rode with him in the ambulance to hospital, where he died the next day.
Detective Mark Palma from Orewa police said the vehicle was highly likely to be a Toyota Hi-lux ute, probably from the 1980s or 1990s but it could also be a run-down 2000 model.
"It was an isolated area but there has to be a reason that vehicle was in that area at that time on that day.
"We are appealing for any further information anyone has got," he said.
On the web page for the charity ride, www.heartracer.org.nz, Dr Robinson said his goal was to raise $10,000 for heart research. His death sparked a flurry of donations. Today the donations had nearly doubled to more than $4000.
Mr Palma said anyone with information could ring him at the Orewa police station.
- NZPA