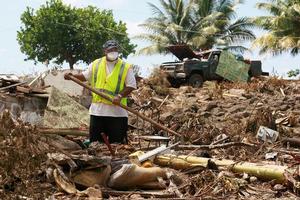 TV3 has defended its decision to screen Survivor: Samoa less than a month after a tsunami devastated the nation, killing at least 180 people.
The 19th series of the hit American reality franchise will start next week on October 29 with a message from Samoan New Zealander Oscar Kightley encouraging viewers to support charities helping with ground aid and development work.
A TV3 statement said: "As we all know, Samoa has had a difficult time recently in the wake of the devastation caused by the tsunami.
"While Survivor is about entertainment, fun and celebrating how beautiful the islands can be, at this time it will also remind us that Samoans need our ongoing help to rebuild their country."
Filming finished in September for the show which shows 20 castaways fending for themselves along what were then pristine beaches and green valleys.