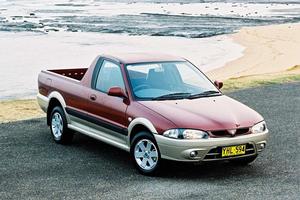 A Malaysian-manufactured ute has turned in the worst crash test performance of any vehicle being sold here, Consumer New Zealand warns.
The Proton Jumbuck ($24,000) joined two other utes available in New Zealand in being given dismal safety ratings by independent crash test organisation Ancap (Australasian New Car Assessment Programme).
The two-door Jumbuck was awarded the lowest possible one-star rating after its performance in frontal offset and side impact crash tests.
Ancap scores vehicles from zero to five stars, depending on the safety features and protection of the driver and passengers.
The ute's cabin was severely deformed in the 64km/h offset crash test. It offered poor head protection for the driver and passenger, and poor leg protection for the driver.
It also lacked airbags, ABS, and electronic stability control - a feature that senses skidding and individually brakes the wheels, helping the driver to regain control.
The two-door Chinese-manufactured Great Wall Motors SA220 ($22,000) was given a lowly two-star rating, with findings that its protection for the driver was poor and its passenger compartment buckled in a frontal offset crash test.
While Great Wall Motors' larger four-door V240 ($27,000) model has dual front airbags and ABS brakes, it was also awarded only a two-star rating.
Consumer NZ testing manager Hamish Wilson said potential buyers should steer clear of these utes.
"We don't believe these vehicles should be allowed on the road."
He said the minimum standard for a new ute should be four stars. The Toyota Hilux, Mitsubishi Triton and several Ford Falcon and Holden Commodore utes achieved this.
The difference in safety between a two-star and a four-star ute was significant, he said.
"It can mean the difference between walking away from a crash and being taken away in an ambulance."
- NZPA