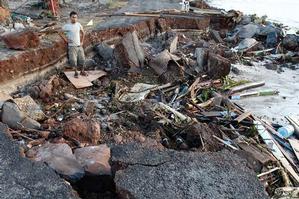 HOLDING THE BODY OF A COUSIN'S SON
Peta is grateful the lives of her two children were spared.
Ten-month-old Enoka and 2-year-old Kimberley were safe and sound in their Apia home when the tsunami struck early on Wednesday (NZT).
"I was up with my kids, they are always up early morning about five. So it happened and we immediately tried to call here [her village, Lalomanu], but the lines wouldn't go through."
Searching for lost relatives, particularly the young ones, was heart-breaking. "It was so hard finding my nieces and nephews," she said. "And when I found my cousin's son ... I took him and it was just so hard."
DOZENS OF CORPSES AT 'GROUND ZERO'
Red Cross volunteer co-ordinator Lapa Tofilau said rescue efforts in the village of Lalomanu had yielded dozens of corpses.
"We're still pulling out bodies now but we have already taken out 30 to 40 people today alone." he said. "We cannot account for the bodies that families have taken themselves to the hospital or just buried. We are trying everything we can to find bodies."
IT LOOKS LIKE A BOMB WENT OFF
Joey Cummings, a radio broadcaster in American Samoa, interviewed by ABC's Good Morning America programme, said the tsunami produced a destructive, muddy river that swept away trees, boulders, cars and boats.
"If you have a building and it wasn't made out of concrete, bricks, it doesn't exist any more," he said.
"You just have a series of concrete slabs with debris strewn all over the place. It looks like a bomb went off."
LOOTING IS A PROBLEM WITH LIMITED POLICING
Betty Ahsoon said looters were taking advantage of the chaos wrought by the tsunami in Pago Pago.
"Looting is a problem as a lot of stores and merchants have been destroyed.
"We have limited people to police the area as our first responders, including the police, are out assisting people affected," the Homeland Security spokeswoman told a newsagency.
Journalists said the looters were targeting liquor and cigarettes and other items they could on-sell but others "were mainly taking food, frozen chickens and things like that".
PRIME MINISTER'S VILLAGE LOST
Lepa, the home of Samoa's Prime Minister, was one of 20 villages on the island that were destroyed.
"Thankfully the alarm sounded on the radio and gave people time to climb to higher ground.
"But not everyone escaped," said Prime Minister Tuilaepa Sailele Malielegaoi, adding that two children en route to hospital were swept away.
"Their car was just taken away.
"I'm so shocked, so saddened by all the loss," he said on a flight from Auckland to Apia, the capital of Western Samoa.
SAUASO TUPUOLA RAN BUT SHE COULDN'T HIDE
Sauaso Tupuola, bruised and tearful, lost her 84-year-old mother, 30-year-old daughter and toddler granddaughter in the tragedy.
"After the first wave we were all alive. Then the second wave came and rolled us. I thought we were all safe because I hear my husband yelling 'run faster, run faster'. I lost three people, all the women."
She stands where her home once stood, just the base of a toilet and cement block remaining.
"So you see we have got nothing now, no place to live. We lost everything," she said wiping the tears from her eyes.
"I need to go to town to the funeral parlour to dress my mum in some nice clothes.
"She just moved last month from New Zealand to live with me and this is what happened to her. I want to do everything I can for her."
TERROR WHILE SPEEDING TO SAFETY ON A BUS
In American Samoa Didi Afuafi was on a bus when the giant waves came ashore.
"All the people on the bus were screaming, crying and trying to call their homes. We couldn't get on cell phones. The phones just died on us. It was just crazy."
With the water approaching fast, the bus driver sped to the top of a nearby mountain, where 300 to 500 people were gathered, including patients evacuated from the main hospital. Among them were newborns with IVs, crying children and frightened elderly people.
COUPLES FEAR CHILDREN WASHED INTO THE SEA
Dr Ben Makalavea from Apia's main hospital told National Radio that some couples can't find their children, and fear they may have been washed out to sea. "One woman we saw was so confused that she doesn't even know where she comes from," he said.
Dr Makalavea added that the hospital needed nurses, doctors, surgeons and blood to treat casualties with broken bones and cuts.
RED CROSS WORKERS FEEDING THE HOMELESS
Red Cross relief workers were providing food, clothes and water to thousands of homeless now camping in the wooded hills above the coast. Volunteer Futi Mauigoa said water was already in short supply.
"Tonight they are all going to be back up the hills because the air out here is not really healthy for them," he said of the rotting stench in the disaster area.
HOLIDAYING KIWIS GET INTO HELP MODE
Three New Zealanders who flew to Samoa on Friday for a wedding yesterday put their holiday aside and went into help mode. Mamea Frank Suifili and his two children Poto, 21, and Emmanuel, 11, packed their ute and headed to Saleapaga - their mother's village - to help.
"We packed everything, clothes, food, water and some other things that might be handy," Poto Suifili, of Otara, said. "Dad just told us to pack everything in our suitcases - and that we're not coming back with any of it - giving it to all the people."
Miss Suifili said the family had been in Vaitele, near Apia, when the earthquake struck - a last minute plan that may have saved their lives.
"We were meant to go to Saleapaga [on the southern coast of Upolu] early, but we just decided not to at the last minute."
Miss Suifili said funerals were being held as families sought to bury the dead quickly, given the lack of mortuaries.
How you can help
Pacific Cooperation Foundation
Deposits can be made at at any Westpac branch. All the money raised will go to the Samoan Government
Red Cross
- Make a secure online donation at redcross.org.nz
- Send cheques to the Samoan Red Cross Fund, PO Box 12140, Thorndon, Wellington 6144
- Call 0900 31 100 to make an automatic $20 donation
- Make a donation at any NZ Red Cross office
ANZ bank Make a donation at any ANZ bank branch, or donate directly to the ANZ appeal account: 01 1839 0143546 00

Oxfam - Make a secure online donation at Oxfam.org.nz - Phone 0800 400 666 or make an automatic $20 donation by calling 0900 600 20