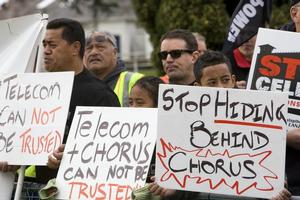 Shareholders arriving at today's Telecom annual meeting in Auckland were greeted by about 150 people protesting the company's new contractor-model for its Auckland and Northland linemen.
Members of at least three unions joined the Engineering, Printing and Manufacturing Union to let shareholders know of their unhappiness with Telecom's contracting plan.
Up to 400 EPMU members have refused to sign contracts with Australian-owned Visionstream as they object to becoming owner/operators rather than employees.
The protesters brought with them a giant inflatable rat and carried banners saying "what's the need for all the greed" and "$5m bonus for (chief executive Paul) Reynolds, 900 laid off Telco Tech".
It is the latest in a series of industrial actions taken by the linemen.
EPMU secretary Andrew Little said there had been a backlog of 980 faults on Northland lines since the announcement of the new model, and he was sure there would be about 1000 by now.
He said there had been no consultation with staff before Telecom asked Visionstream to take the contract.
Little said the company would meet with union staff at 12.30pm following the meeting to try to resolve the dispute.
Visionstream was due to assume total responsibility for connecting customers and fixing faults in Auckland and Northland today, taking over the work from previous contractors Downer EDI and Transfield.
NZPA