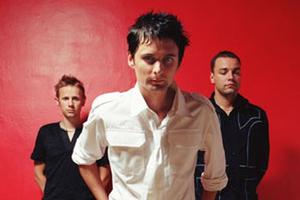 British band Muse. Photo / Supplied.
Big name acts for the day-long festivals in Australia and New Zealand include Muse, Lily Allen, Peaches, Dizzee Rascal, The Mars Volta, Powderfinger, Groove Armada and Rise Against.
The line-up so far: Muse, Powderfinger, Lilly Allen, Eskimo Joe, Groove Armada, Grinspoon, The Mars Volta, Ladyhawke, Dizzee Rascal, Karnivool, Peaches, The Temper Trap, Kasabian, Midnight Juggernauts, Rise Against, Magic Dirt, Mastodon, Lisa Mitchell, The Horrors, Bluejuice, Calvin Harris, Kisschasy, The Decemberists, Tame Impala and Girl Talk.
What do you think of the 2010 Big Day Out line-up? Here is the latest selection of Your Views: