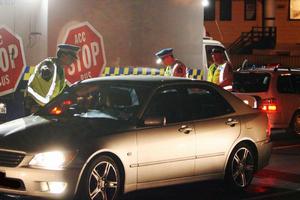 Cars belonging to repeat drunk drivers should be fitted with a disabling device that detects breath alcohol levels, lobby group CrossRoads says.
The group, a subsidiary of the Sensible Sentencing Trust (SST), said the devices were used successfully in the United States, Britain and Australia.
Their introduction would save lives.
"We're talking about the toughest nut to crack - recidivist drunk drivers," CrossRoads spokeswoman Megan McPherson said.
"There is no magic bullet, as recidivists don't care about the law, or the safety of others."
Of the 30,000 drunk drivers convicted last year, 10,000 had one previous conviction and 1500 had at least four, she said.
CrossRoads also called for mandatory manslaughter charges for those who killed while driving drunk.
"What we are saying is basically there's no difference between someone who carries a firearm into a supermarket and someone who gets behind the wheel drunk. The only difference is the weapon," SST spokesman Garth McVicar said.
Their comments followed the death of Frank van Kampen, 46, who was killed on Friday while cycling towards Te Horo on the Kapiti Coast on State Highway 1.
A 70-year-old woman driving the car which allegedly struck him is facing drink-driving charges.
Friday also saw the sentencing of Christopher England, 28, who was almost twice the legal limit when he crashed into the car carrying Alisha Goodall and her partner in July last year.
He was jailed for 2-1/2 years after Ms Goodall died from head and chest injuries.
- NZPA