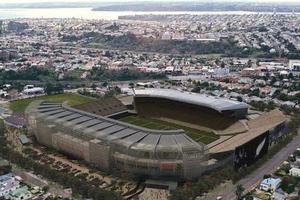 Auckland's bid to host the 2018 Commonwealth Games is gathering pace.
Former Commonwealth secretary-general Sir Don McKinnon is to promote the plan overseas, officials in Brisbane have offered to drop their bid and, in a rare display of unity, Auckland's mayors are behind the idea.
Auckland mayor John Banks said the process had "moved well beyond" a standoff between central and local government over funding. They are sharing the $325,000 cost of a feasibility study.
The report is due next month, with a firm decision on a bid expected by February.
Banks said until then Sir Don would be "working the phones" to gauge support among Commonwealth members overseas.
Officials in Brisbane had already offered to step aside in favour of their sister city.
"It's a pretty generous move, but also a smart one, because Melbourne recently hosted the games, and Sydney hosted the Olympics," said Banks.
The study is being carried out by Events Knowledge Service, consultants for the Commonwealth Games Federation, who visited Auckland this month.
New Zealand Olympic Committee secretary Barry Maister said feedback was positive.
"They expressed a view that Auckland was well advanced in terms of what it has, relative to many other cities they assess," he said.
Hosting the 2011 Rugby World Cup has given Auckland a head-start on preparations, and an upgraded Eden Park would be a likely focus point, said Maister.
The minimum capacity for a games opening ceremony is 40,000. Eden Park can take 47,000, which will be increased to 50,000 after the World Cup.
Banks was concerned at the lack of suitable cycling and swimming facilities. The cost of bringing existing venues up to scratch was not known.
New Zealand has hosted the games twice, at Christchurch in 1974 and Auckland in 1990.
Waitakere mayor Bob Harvey was confident Auckland could host the games again as it was in a better position now than in 1990.
North Shore mayor Andrew Williams supported the bid if Auckland could host such series as the Asia Pacific Games and World Masters Games. "It's got to be a 10-year strategy to get a number of events and spread the cost."