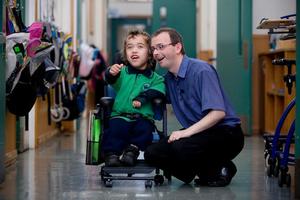 The Government has back-tracked on a decision to axe a $2.5 million-a-year scheme to provide therapies at school for children with physical disabilities.
But Education Minister Anne Tolley said the scheme would only be available for those already receiving additional therapy at the 23 schools involved.
"Some parents have enrolled their children at a particular school based on the additional therapy resourcing available there. Today's decision guarantees that while their child is at that school, the funding will remain available," Mrs Tolley said in a statement.
No new students will be eligible for additional therapy funding.
Parents and schools were outraged at the plan to cut funding, pointing to "horrific consequences" for children in the scheme. The issue was highlighted in a series of articles published by the Herald (see links to the right).
Today Mrs Tolley said the decision to continue the funding for those already in the scheme followed discussions with families, their schools and sector representatives.
"We consider this a small cost relative to the very high value that is clearly placed on the additional therapy services."
She said the funding would reduce as students left school.
Mrs Tolley wants the therapists' budget for a $51 million funding pool that will enable a further 1100 children with special needs to qualify for a grant referred to as ORRS (Ongoing and Reviewable Resourcing Schemes).
She says this will make special-needs funding more equitable as only some schools received the additional therapist funding.
"The additional therapy funding was introduced in 1999, and was only intended to be available until 2001. It has continued to be rolled over every year since then," she said.
- NZHERALD STAFF