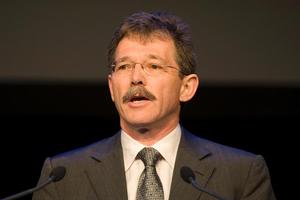 Peter Goodfellow has been elected National Party president.
The Auckland businessman replaces Judy Kirk, who stood down after seven years in the job.
Mr Goodfellow has had a long involvement with National, holding positions such as chair of Auckland Young Nationals, chair of Northern Region Communications Committee and chair of the North Shore Campaign Committee.
National's board elects the party's president from within its own members. Mr Goodfellow was a sitting member.
Yesterday, high profile candidate Wira Gardiner missed out on a place on the board.
Delegates chose from eight candidates to fill five of the vacancies and Mr Gardiner came sixth.
The board is made up of Prime Minister John Key, one caucus representative, the party's general manager and seven elected members.
The top-polling candidate was Auckland lawyer and chief executive of the Make a Wish Foundation, Scott Simpson.
Mr Simpson was seeking re-election.
Also elected were Alastair Bell, Kate Hazlett, Grant McCallum and Pat Seymour.
Mr Gardiner ran a very high-profile campaign, but National delegates say this may have back-fired on him.
Some were also concerned that his wife, Hekia Parata, was a sitting MP and this may have represented a conflict of interest.
It was announced today that Mr Gardiner planned to accept a knighthood that came with the DCNZM he was awarded last year.
Mr Gardiner served as lieutenant colonel in the army, and helped set up the Maori Development Ministry and the Waitangi Tribunal.
He parted ways with the National Party in 2005 when then leader Don Brash launched his Iwi/Kiwi campaign.
Mr Gardiner returned to the party and had been considered by many to be a certainty for the board and a possibility for president.
Tomorrow, the board meets and elects a president from within its membership.
- NZPA