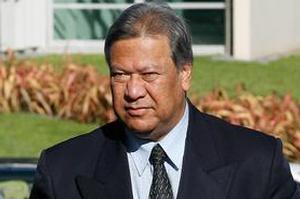 The judge has begun summing up the case in the trial of former MP Taito Phillip Field on 35 criminal charges.
Justice Rodney Hansen began his address to the 10-person jury at the High Court in Auckland soon after midday today, 3-1/2 months after the trial of the former Mangere MP began.
Field faces 12 charges of bribery and corruption as an MP, after allegedly having Thai nationals carry out work on his properties in New Zealand and Samoa in return for immigration assistance between November 2002 and October 2005.
He also faces 23 charges of wilfully attempting to pervert the course of justice, alleging he made false statements to an inquiry carried out by Noel Ingram QC, had false documents procured and encouraged others to make false statements to the Ingram inquiry and to police.
Justice Hansen thanked jurors for their efforts during the trial, likening their efforts to a long river journey which had now descended into its toughest part.
He said jurors had to put aside their political views and their personal standards when considering their verdicts.
"This is not about whether you approve or disapprove of what has happened. It's about whether the criminal law has been breached and it's your job to act dispassionately and impartially and to disregard any considerations which might interfere with that approach."
Justice Hansen is expected to finish his address late this afternoon or tomorrow.
- NZPA