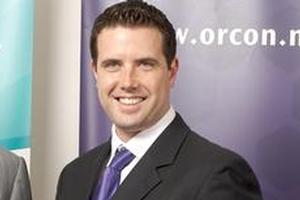 Entrepreneur Seeby Woodhouse is selling his palatial $8.8 million clifftop mansion, built by Chrisco hamper couple Richard and Ruth Bradley, whose Coatesville estate is also for sale for $20 million.
Woodhouse's 1000 sq m home sprawls across 3000sq m of land on three clifftop sites between Castor Bay and Milford.
It's listed on various sites, including Trade Me, and has dropped $700,000 from its original $9.5m asking price. The home, built in two wings linked by a glass gallery, has six bedrooms and five bathrooms, six fireplaces, a 21m, glass-sided, heated swimming pool, an outdoor fire pit and spa (with its own DVD), a games room and gym, sauna, beauty therapy room and home theatre.
Woodhouse, Orcon founder and now managing director of Green Carbon Ltd, bought the Beach Rd property for $8.3m two years ago from the Chrisco Hamper Club couple.
The Bradley's built a sprawling English-style, four-storey home on 22ha in Coatesville.
Said to have cost $30m to build, the property is for sale for $20m.
Their lifestyle property includes seven bedrooms, a guest cottage, a gift-wrapping room, tennis courts, a garden maize and a boat house.
Earlier this month another Seeby-owned clifftop house in the same road sold for an undisclosed price.
The house, used to film New Zealand's Next Top Model reality TV show, was on the market for $4.8m. Woodhouse bought it for $4.8m in 2007 after his friend, party-pill millionaire Logan Millar committed suicide there.
David Greig, Harcourts Cooper and Co luxury division manager, said the buyers and the price were confidential.
He said it was hard to get buyers to part with more than $5m in the current climate and no North Shore houses had sold over that amount this year. "There are plenty of people with that sort of money out there but they are being cautious."
Seeby could not be reached for comment last night but Grieg said he was selling because the house was too big for him.