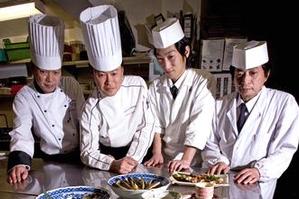 Specialist ethnic restaurants say they face an uphill battle to retain chefs after changes to job laws that favour a "Kiwi first" policy.
Ariake Restaurant and Sushi Bar, which has been open in downtown Auckland for almost 30 years, says it is now "almost impossible" to recruit from Japan - which it has been doing since 1980 - because Immigration New Zealand says there are New Zealanders available for jobs.
Manager Miyuki Sakairi says her efforts to retain chefs with years of training are hampered by labour law changes.
Immigration New Zealand said that since the Essential Skills policy came into effect last July, it had been made mandatory for officers processing work permit applications to request a labour market test to ensure there were no New Zealanders available for the vacancies.
But an increasing number of migrant workers and their employers are feeling the impact only now as permits start to expire.
Ms Sakairi says she now had to re-advertise the job and register with Work and Income New Zealand even if she wanted to continue employing the same employee in the same position.
"It is so ridiculous, because Winz will tell Immigration there are suitable New Zealanders for the job, but then send us people who are totally unsuitable."
Three Europeans and one Vietnamese were sent by Work and Income to fill waiting positions and a sous chef job. However, none could tell the difference between sushi and sashimi, she said. She declined to employ any of the applicants, and is short of staff.
Ms Sakairi said Immigration had told her there were suitable people registered locally available to fill the job "and/or there are suitable people who are able to be trained for the job".
She added: "I think there is a major problem when we have an immigration department which cannot understand there is a difference between a sushi bar and a fish and chip shop.
"Running a restaurant like ours, we need to have a good balance between staff who have good and intimate knowledge of Japanese food and those who can communicate with our customers.
"We do not have the resources to provide training for unemployed Kiwis who have absolutely no knowledge about Japanese food."
Ms Sakairi said the restaurant employed five locals and 19 Japanese staff, and was in the process of appealing against a decision to decline one application.
Immigration New Zealand said it could not comment on individual cases, but jobs in areas with skill shortages could be filled by migrants if they met all the requirements.
Chefs remain on Immigration's long-term skill shortage list, but many restaurants and cafes continued to face an uphill battle to retain or recruit overseas chefs, said Restaurant Association of New Zealand national president Mike Egan.
"The industry is not a one-size-fits-all, but Immigration just doesn't seem to get it. It's really frustrating for business owners - it'd be great if there are Kiwis who can do the job, but the fact is, there's not."
He said there were no cooking schools in New Zealand teaching specialised Asian cooking, and local graduate chefs were taught only standard cooking styles. Mr Egan, who runs five restaurants including Monsoon Poon in Auckland and Wellington, says the association is "in dialogue" with Immigration and was appealing for it to approach the matter with "greater understanding and common sense".
"We employ four overseas chefs and 30 Kiwis. If Immigration stops us from employing our four imports and we have to shut our doors, the result would be 30 out-of-work Kiwis."
Association chief executive Alistair Rowe said an Auckland Indian restaurant seeking to renew its chef's work permit had also received a letter from Immigration "confirming that there is no shortage of people of these skills in New Zealand" - but Winz said it did not have the people.
"The apparent collusion between Winz and Immigration in manufacturing a myth that there is a plentiful supply of New Zealanders willing and able to step into the hospitality roles vacated by those whose visas are not renewed, if continued, will ensure that more people are out of work as businesses become unable to operate without the imported staff who continue to be vital to those businesses," Mr Rowe said in an e-newsletter to the association's 1700 members.
He said the two departments had a "fundamental lack of understanding of the industry".
"All chefs are not the same - Indian, Thai, Chinese, Turkish, Italian cuisines are all different, and the subtleties that make for excellent indigenous cuisine cannot be gleaned from reading a recipe," Mr Rowe said.
An Immigration New Zealand spokesman said chefs applying to work in New Zealand required a national certificate in hospitality level 4 or a level 5 diploma and a minimum of five years' combined experience in relevant establishments, with a minimum two years at Chef de Partie level.
"When an applicant meets all the policy requirements, there should not be any problem obtaining work visas or permits," he said.
"If an applicant meets all requirements, we will accept that no New Zealanders are available for the position. Where the requirements are not met, we will consult Winz on the availability of New Zealanders."