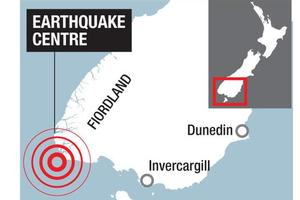 Four more strong aftershocks have shaken Fiordland this afternoon following last night's 7.8 earthquake.
One quake measured 5.3 and hit the area at 12.24pm. Another tremor, measuring 5.6, was felt 20 minutes later, followed by a 5.1 quake at 1.30pm.
The latest, at 2.13pm, measured 5.1 and was at a depth of 12km, 80km west of Te Anau.
GNS Science said the aftershocks were felt in Alexandra and Invercargill.
The initial quake, which was centred 100km northwest of Tuatapere and 12km deep, struck at 9.22pm yesterday and triggered an alert from the Pacific tsunami warning centre in Hawaii.
However, only two small waves were recorded about 10.30pm - a 30cm wave at Dog Island near Bluff and a 17cm wave at Jackson's Bay on the Fiordland coast, after which the tsunami warning was cancelled.
The quake was felt widely throughout the South Island and as far north as Taranaki, and was followed by two sizeable aftershocks, one 19 minutes after the initial quake measuring 6.1, and another at 1.50am measuring 5.9.
A separate 5.4 magnitude quake in Taranaki at 9.38pm was not thought to be linked to the Fiordland quake, GNS geologist Matthew Stevens said today.
Earthquake Commission spokesman Lance Dixon told NZPA 183 claims had been lodged by 2.45pm, with minor damage reported, including cracks to wallpaper, bricks and house exteriors.
Most of the claims were lodged in Invercargill, Dunedin and around Otago, but some came from as far away as Christchurch and Greymouth.
Mr Dixon advised people to have a look around their property and contact the commission on 0800 DAMAGE to report damage.
KiwiRail said trains south of Oamaru and through the Buller Gorge were halted from 9.30pm while lines were checked, with no damage found.
The lines were cleared by midnight for trains to continue, with delays to one train on the main south line between Christchurch and Invercargill and two trains in the Buller Gorge.
DOC staff flew into Fiordland National Park at first light to check on registered trampers and one-day visitor structures before focusing on the quake's epicentre and surrounding huts and tracks, Te Anau acting area manager Andrew Cudby said.
The trampers were leaving the park on foot and were expected out at some stage today, Mr Cudby said.
There had been some slips but no major damage, and the ground would be monitored over coming months.
Visitors to the park should report any ground or slip concerns, he said.
A team of DOC staff on Resolution Island, close to the quake's epicentre, were safe and well - "shaken but not stirred", he said.
Other staff in the field had also been contacted and were unharmed.
The controller of Southland's civil defence emergency management group, Neil Cruickshank, activated the region's emergency operations centre to assess damage reports and said the region had been given "a good shake" .
"Phone services were down in east Invercargill and power was out for some time in the suburb of Otatara because of the earthquake," he said.
Civil Defence staff flew over the epicentre today but found little damage.
They would continue to monitor and assess the aftermath, he said.
Mr Cruickshank said anyone worried about the structural integrity of their building should contact their local council.
More than 14,000 earthquakes are recorded in New Zealand annually, but only about 20 are stronger than 5 on the Richter scale.
The Inangahua earthquake on the West Coast in 1968 measured 7.1 and killed three people.
The previous strongest recorded Fiordland earthquake, near the mouth of Doubtful Sound in August 2003, measured 7.1 and caused considerable damage in Te Anau.
The Earthquake Commission received almost 3000 claims totalling $10.5 million.
- NZPA