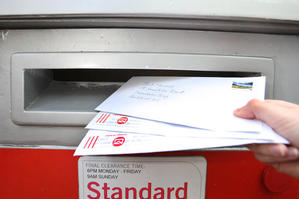 Nearly 400 jobs at New Zealand Post Group have fallen victim to the recession.
Acting group chief executive Sam Knowles said there had been 237 redundancies in the first half of this year, 86 jobs were lost through attrition, and 61 fixed term contracts not renewed.
Not all the news was bad, with 90 new jobs created.
Mr Knowles said the recession, an unprecedented mail volume decline and challenging trading conditions were to blame for job cuts.
The group had about 10,000 permanent staff.
Approximately 90 per cent of total job reductions were in the postal services business, and 72 per cent of that block took voluntary redundancy.
"Different businesses within the Group are being affected in different ways and each is responding appropriately," Mr Knowles said.
"While the postal services and data processing and management activities have been adversely affected, Kiwibank is experiencing substantial growth and has added 89 people to its payroll during the period."
Further job cuts were possible as Group businesses continued "to manage through a tough commercial environment".
Today's figures did not include 74 potential redundancies arising from plans to close the Auckland call centre.
NZPA PAR mt kn