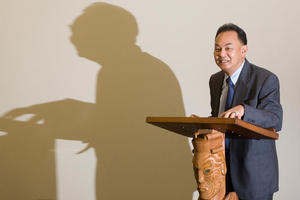 Thailand's Foreign Minister yesterday reassured New Zealanders at a public meeting in Auckland that his country is becoming more politically secure and safe for tourists, but his comments come when his own position is under threat.
Kasit Piromya addressed a crowd of Thai students and staff at Auckland University of Technology, saying that Thailand's Government was looking to move on from "cronyism and money politics".
Mr Kasit also said tourists should not hesitate to visit Thailand after last year's unrest: "It was just one or two spots ... 99.9 per cent of the city [Bangkok] and foreigners are not affected - life goes on as usual."
But the NZ Ministry of Foreign Affairs and Trade's safe travel website states there is "some risk" in travelling to Thailand because of political instability.
Last year in Bangkok, Mr Kasit spoke at "Yellow Shirt" rallies that led to the closure of the city's two airports, stranding 350,000 travellers.
Police have filed charges against him over his involvement in the demonstrations and Opposition members of Thailand's Parliament have demanded he resign.
But he said last night that the charges were politically motivated and petty.
"I am being accused of being a terrorist," Mr Kasit said. "But I just went to the podium a couple of times, fighting for democracy and giving instruction on how to fight corruption."
He said he would not resign and would fight his case in court.
The Straits Times newspaper has reported that Prime Minister Abhisit Vejjajiva will allow Mr Kasit to remain in office while he fights the charges of illegal assembly, attempts to stir unrest and breaches of aviation law and terrorism.