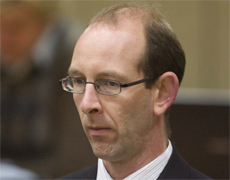 David Bain's sister Laniet wanted to move back to her family home from where she was living with her father because of what he was doing to her, Christchurch High Court has been told.
British Army doctor Sean Clarke, via video link from Birmingham, told the court today he wrote a note to himself to find out what was occurring between Laniet Bain and her father, Robin, because of what Laniet had told him.
Previous witnesses have told the Bain murder trial of Laniet speaking of sexual abuse and incest involving her father.
Mr Clarke said he studied at Otago University and met David Bain about 1991 through a group called Opera Live. The pair became friends.
Bain was happy, cheerful, sporty, had a good sense of humour and was fun to be with, Mr Clarke told the court.
Mr Clarke said he also met Laniet and got to know her through opera productions.
He had arranged to meet Bain on May 27, 1994, at the Otago student union but Bain did not turn up.
Instead, Mr Clarke saw Laniet, who was looking for her brother.
Laniet was quite agitated and distressed, and kept looking at her watch and asking when Bain would get there, Mr Clarke told the court.
He said he spoke to Laniet for about 20 minutes. During general discussion, she suddenly got very upset.
She said she wanted Bain to talk to their mother about her moving back home from a school house at Taieri Mouth, where she was living with her father, because she couldn't stand what "he" was doing to her anymore.
"We had just been talking about her father, so I assumed it was her father."
Mr Clarke said he wrote a note to himself that he should talk to Bain about what was going on between Laniet and her father.
He said he believed Laniet had been trying to tell him about something going on in the family situation.
Mr Clarke later contacted Bain's lawyers and was then contacted by police. He was asked a large number of questions by police, he said.
Mr Clarke said he met Robin and found him very withdrawn and uncommunicative.
Another witness, Darryl Young, told the court he met Robin Bain while working as a photocopier salesman in 1992/1993. Robin was principal at Taieri Beach School.
Mr Young said he found Robin unusual in terms of the typical demeanour of a school principal, and not as confident as principals he normally dealt with.
He said he was dressed untidily and "homely".
Mr Young recalled visiting the school three times and on the third visit, Robin was not there as arranged.
Mr Young said he was told he could find Robin in his Commer van, which he found in a "barren" camping ground nearby.
The court has previously heard Robin lived in the van for a period of time.
Mr Young said when he approached the van, he heard two voices inside, one of which he assumed to be a female voice.
Robin came out wearing only a towel. He smelled of alcohol, which was why Mr Young thought he had not turned up at the school.
Robin told him he would meet him at the school shortly, and Mr Young later met him there.
David Bain, 37, is on trial for the murder of his parents and three siblings in their Dunedin home on June 20, 1994.
His defence team argues that his father Robin, 58, shot dead the family before turning the rifle on himself.
By Jarrod Booker

Email

Jarrod