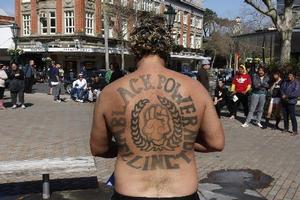 Black Power gang member Eugene Ryder displays his patch tattoo during the anti-gang patch by-law protest at Majestic Square, Wanganui. Photo / Mark Mitchell
Wanganui authorities already disagree over the enforcement of a new ban on gang patches, as gang members prepare to march the city's streets in protest.
Wanganui District Council banned gang insignia from the city at its meeting yesterday, and the bylaw came into force at midnight.
The bylaw gives police powers to fine patchwearers $2000 and to take their gang insignia from them.
Will banning patches reduce gang crime? Here is the latest selection of Your Views: