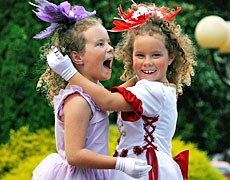 Competition was fierce, even between sisters, in the Prix de Fashion event on the opening day of Auckland Cup Week yesterday.
But 7-year-old twins Bianca and Anastasia Styles were too young to win any events in the Derby fashion show, and the ultimate winner was 27-year-old Claire Hahn from Takapuna.
"I couldn't afford to spend thousands so I just threw something together from clothes I already had, and bought a $20 hat," Ms Hann said. "I really didn't expect to win anything. I just came for a girls' fun day out."
She took away a $100,000 prize pack, including a Mercedes-Benz CLC 200k Coupe valued at $65,000.
Meanwhile, one jockey was head over heels after winning New Zealand's richest ever race.
Telecom Derby Day at Ellerslie Racecourse was postponed on Saturday because bad weather made the track dangerous. But at the rescheduled Derby, Australian jockey Scott Seamer still managed to injure himself when he fell from his mount while celebrating his win in the $2.2 million feature race.
His horse, Coniston Bluebird, took fright when the Queenslander threw his arms in the air in victory salute.
Seamer had to be carried into the weighing room for the all-important weigh-in, without which disqualification can follow. He was taken to hospital with a suspected broken bone in his heel.
By Isaac Davison @Isaac_Davison

Email

Isaac, Mike Dillon

Email

Mike