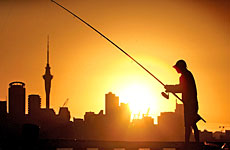 The golden weather will continue into Anniversary Day for Aucklanders, with very little rain expected for the remainder of January.
Today will have cloudy periods, but mostly clear skies, and a high of 26 degrees, said Weather watch centre head analyst Philip Duncan.
"Lower humidity and a slight breeze would make the day even more pleasant to be outside. Overall it will be another hot day."
Mr Duncan said after very little wind in the weekend, a light southwesterly would help sailors in the Anniversary Day Regatta.
They could expect a windspeed of 15 knots, with slightly choppy seas in the Waitemata Harbour.
The regatta opens with a Parade of Sail at 9am, with the first races beginning off Orakei Wharf at 11am. Four hundred craft are expected to compete in the races, including tall ships, vintage tugboats, classic yachts, racing keelers, sloops, sailing dinghies, and sailboards.
The classic division at 11.35am features restored gaff-rigged boats built in the Logan Brothers' shipyards in the 1890s. Boats racing from Mahurangi, Kawau and Rakino Islands are expected in the harbour at 12.30pm.
The weather will cool tomorrow for the South Island and east side of the North Island, with a chance of an isolated shower. But hot and dry weather will soon return.
"A high will come from the Tasman Sea on Wednesday, making it very dry. There will not be much rain for the rest of the January," said Mr Duncan.