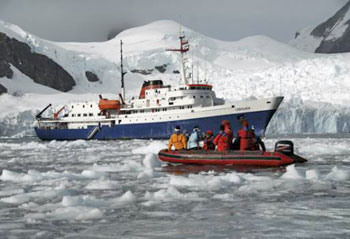 One New Zealander is among the passengers on board a stricken Argentinean cruise ship that is leaking and adrift in Antarctic waters, Australian authorities say.
A rescue mission is underway to rescue all 122 people on the Ciudad de Ushuaia, which is leaking fuel and taking on water after running aground on Thursday.
Australian Antarctic Division (AAD) director Tony Press said the International Association of Antarctic Tour Operators had told them that as well as the New Zealander, there were 11 Australians, 12 Americans, 14 Dutch, nine Germans, seven Britons, six Chinese, six Spaniards, five Swiss, three Italians, two Irish, two French, two Canadians, a Cypriot and a Belgian.
The crew consisted of 28 Argentinians, eight Chileans, three Uruguayans and one Spaniard, Dr Press said.
The Argentinian Navy said the cruise ship had two cracks, but was not in danger of sinking.
It was being helped by another passenger ship in the area, the Associated Press reported, without naming the assisting vessel.
Two Chilean Navy ships were also on the way to help.
Mariano Memolli, of the Argentine National Antarctica Directorate, said the Ciudad de Ushuaia ran aground in Wilhelmina Bay, part of a peninsula that reaches towards the southern tip of South America.
He said a Chilean vessel was expected to be the first to reach the damaged cruise liner and would take on all of its 122 passengers and crew as a precaution.
The Ciudad de Ushuaia is used for tourist trips around Antarctica.
It regularly departs from Ushaia, the southernmost Argentine city that is a popular destination for Argentines and foreigners.
Similar accidents have happened in the past.
In December last year, a Norwegian cruise liner, Fram, floated adrift for two hours before rescue in the same region with 256 passengers and 70 crew on board after its engines failed.
In November last year, a Canadian-owned ship, Explorer, sank after hitting an iceberg.
Its 154 occupants abandoned ship in lifeboats and were rescued without injury, though a massive fuel slick sullied the pristine protected nature zone.
- NZPA and wires