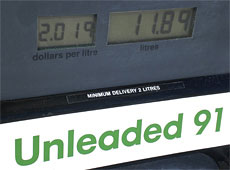 Nearly one in five New Zealanders say even if the price of petrol went above $5 per litre it wouldn't make a difference to their fuel use, a survey shows.
But for a quarter of New Zealanders, petrol prices breaking the $2 per litre barrier will trigger a significant reduction in fuel use, and if 91 octane went on to reach $3 per litre, 68 per cent would make significant cutbacks.
BP became the latest big oil company to lift their prices today, raising 91 petrol to $1.93 a litre, a 5c a litre increase.
The price of diesel has also been increased by 5c to $1.61.
The reaction of motorists to the petrol price hikes has come from a ShapeNZ poll, released by the New Zealand Business Council for Sustainable Development.
It showed New Zealanders were bracing for fuel price rises over the next two years, with 91 per cent expecting them to go up.
Just 4 per cent say they will stay the same and 3 per cent expect them to fall.
Some were already feeling the pinch, with 21 per cent saying a price of between $1.40 and $1.90 per litre was enough for them to reduce fuel use.
The $2 mark was the tipping point for 23 per cent and 51 per cent said $2.20 was where they would be affected enough to change their behaviour.
For 19 per cent price would not make a difference, even if it hit $5 per litre.
It is unclear, however, what measures people will put in place to reduce fuel consumption - 62 per cent said they had no public transport alternative for the journey they made most often.
Automobile Association spokesman Mark Stockdale said as prices rose people would look at "intelligent use" of their vehicles.
"When prices are reaching the levels they are now, and $2 seems to be a sensitive point, people will modify their travel behaviour to reflect the higher cost of motoring," he told NZPA.
"We would expect that people might use their cars less, perhaps try to combine trips or look at getting a more fuel efficient vehicle so they consume less fuel for the same usage, or look at making more use of public transport where that's an option."
Mr Stockdale said recent rises were making people think and be smart about their travel choices.
" It's coming into winter so people do travel less. People obviously do a lot more travelling during the summer, during the holidays," he said.
One trend that was starting to occur was vehicle choice, he said.
" A lot of people tend to buy a family vehicle which is really the vehicle they need for their holidays - in terms of plenty of space for the kids and for the luggage - and that also happens to be the vehicle they use during the week for commuting.
"People might actually think about buying the car that they need for the majority of their use, which might be something more economical, then for the holidays they might rent a vehicle."
The ShapeNZ survey showed 49 per cent of people were mainly using vehicles using 10 litres of fuel per 100 kilometres.
Nine per cent were in highly fuel efficient vehicles using 6 litres per 100km, 8 per cent used vehicles using 11 to 12 litres and 6 per cent used vehicles burning through 13 litres or more. Another 29 per cent didn't know much fuel their vehicle used.
Mr Stockdale said it was also possible there would be a greater shift at service stations towards systems like "prepay", if the high prices led to an increase in petrol thefts.
If this became more widespread, particularly pay at the pump systems, it could impact on elderly and disabled motorists, Mr Stockdale said.
"While it might be convenient for some, it isn't convenient for those members of the public who are less mobile, and therefore they need assistance in filling the tank."
Shell spokeswoman Jackie Maitland said procedures were always under review but the company had not increased its use of prepay in recent times.
She said the issue of petrol theft - or drive-offs - was constantly monitored and reviewed but no great changes had been seen.
"We're very conscious that people are very uncomfortable, as we are, with where the price of fuel is so we're very mindful of our procedures and if they need to be modified to reflect any activity in those areas," she said.
- NZPA