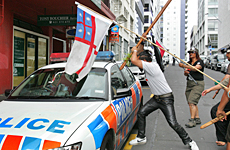 The New Zealand Herald has been crowned the country's best daily newspaper and nzherald.co.nz declared the top news website at the annual Qantas media awards.
Our sister paper, the Herald on Sunday, won best weekly paper and, in just its fourth year of publication, beat allcomers to win the overall best paper award.
It is nzherald.co.nz's second Qantas award in a row in a tightly contested field. The judges said it won this year "hands down".
As well as winning the trophy for best daily paper, the Herald won awards for the best front page and four specialist sections - our Weekend Herald magazine Canvas, The Business Herald, Travel and Canvas fashion - were declared best in the country.
Travel, edited by Jim Eagles and published each Tuesday, has now won the award four years in a row, Canvas' fashion pages for the third successive year and the Business Herald has back-to-back awards.
The Herald won a total of 19 awards and had seven further finalists last night.
Carroll du Chateau took the supreme title for feature writing, having won two feature categories with investigations into the state of North Shore Hospital and the battle over laboratory testing in Auckland.
Brett Phibbs was the photographer of the year.
Seven other Herald feature writers won awards: Catherine Masters (Maori issues), Chris Barton (environment), Linda Herrick (arts), Michele Hewitson (tourism and travel), Phil Taylor (information technology reporting), Simon Collins (social issues) and contributor Peter Griffin (information technology feature writing). Reporter Juliet Rowan won the news award for covering Maori issues.
The Weekend Herald was a finalist for best weekly paper.
Newspaper judges said the daily Herald was "a superb package - a 'big' paper, well written, well laid out, with a portfolio of strong pages, allied to a campaign which won it no favours from the government of the day - not necessarily a bad thing for a newspaper."
The winning front pages, covering the inquiry into Pumpkin and her missing mother were judged 'clear, clean, uncluttered standouts which commanded "read this".
In addition to its overall title, the Herald on Sunday won reporting, photography and feature writing awards and radio star Paul Holmes won columnist of the year for his contributions to the paper.
The Listener was declared best news-stand magazine. Reporter of the year was Phil Kitchin, who also won the Wolfson fellowship to Cambridge University.