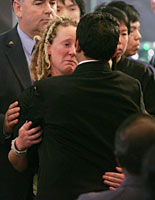 It was Jodie Sullivan's bravest day. The inconsolable instructor, displaying courage and a sense of duty beyond her job description, approached the flower-laden mahogany casket of Floyd Fernandes, wiping back tears.
There to greet her were the 16-year-old's parents, Francisco and Jennifer, and Floyd's sister, Janice. The few words that passed among them were inaudible - but they spoke volumes.
Sullivan is the instructor who led a group from Elim Christian College down the Mangatepopo River on Tuesday afternoon. Six students and a teacher were killed after being swept away by a flash flood.
Family, friends and survivors have been quick to support her, saying she should not be blamed for the deaths. And with a brief embrace and those few words, it was possible to discern forgiveness from the Fernandeses.
Not that it changed Sullivan's mood. No one would have blamed her if she hadn't attended Floyd's funeral, let alone change her decision to attend all the others.
In a service that focused on celebrating his life, she was irrevocably drawn back into the tragedy; a lone figure sobbing when most of the other mourners were moving with the theme of forgiveness and celebration.
Sullivan was still too upset yesterday to speak publicly about her ordeal, but her boss, Sir Edmund Hillary Outdoor Pursuits Centre chief executive Grant Davidson, told the Herald on Sunday he had spoken with her and she was looking at decisions she had made that day.
"Everyone in a situation like she has been in is going to look at what they did and review those things. She made the best decisions she could have under the circumstances and I think she has been incredibly brave."
And Davidson insisted the bravery hadn't stopped there. Her decision to attend all seven funerals showed "incredible fortitude and integrity".
"In the time she knew those kids, she felt an incredible bond with them. She feels she really needs to go to those funerals because of that bond and the need to support the families and to say farewell. That shows real bravery."
Fifteen-year-old survivor Kish Proctor also spoke of Sullivan's bravery and how he would "trust her with my life".
He urged Sullivan to get on with her life, and continue her work with the Outdoor Pursuits Centre in the Tongariro National Park.
"She is an awesome instructor ... someone who is naturally gifted when it comes to the outdoors."
Board of trustees chairman Danie Vermeulen said Sullivan and the other instructors were obviously sorry, but the board had made it clear they were not to blame.
"They are broken but they are dealing with it." And he saw no reason Elim would not return to the Outdoor Pursuits Centre. "As a board we need to have a bit of a think about it, but I don't think we will think much about it," he said.
Sullivan wasn't the only one displaying strength and courage yesterday. Four days after Ruth Nixon lost her boyfriend in the tragedy she fulfilled her promise to be her sister's bridesmaid.
Ruth's boyfriend, Tony McClean, was the teacher who died on Tuesday, apparently while trying to save a student who had cerebal palsy.
Yesterday, she was bridesmaid for her sister Sarah-Jane, 29, who married Mark Broughton in Riccarton, Christchurch.
The sisters' father, Mike Nixon, said Ruth drew on support from her family and church.
"She did exceptionally well. The church in Auckland has been praying for her very, very strongly. She felt she could do it for her sister and for Tony. Tony would have wanted her to."
He said he was proud of both his daughters. "It's been lovely, it's been hard at times. We've had crying and laughing in the same house at the same time. Everyone's been really amazed they've been so strong."
That sort of spirit and sentiment also dominated the funeral service for Floyd Fernandes. There was a torrent of tributes by more than 1000 mourners for the teenager who would have celebrated his 17th birthday today.
There was also brief mention of Portia McPhail, Tom Hsu and Natasha Bray who will be laid to rest tomorrow. Anthony Mulder and teacher Tony McClean, 29, will be farewelled on Tuesday and Tara Gregory on Wednesday.
With images of Floyd projected on to a wall, his father told mourners about a son who had made him so proud.
"I will miss you nudging me in the stomach telling me I have grown fat. I will miss your talks and laughter and the music played in the house. I will miss you calling me chicken. I will miss you. I have lost a companion and a friend."
Floyd's mother Jennifer also paid tribute to her son, telling how she had lost her "biggest treasure".
"As a mother, I find it hard to stand here and share on a day such as this, but I give all glory to our God as I share my heart with you," she said.
Pastor Luke Brough, who led the service, said the tragedy was not God's will. Life was not always fair and it was not a perfect world, he said.
"When people say to me this is God's will, I say, 'Rubbish. That is not true. God is grieving too'."
He said God could have stopped the tragedy but to do that he would have had to take away free will, the opportunity to choose.
He said God's greatest blessing - freedom of choice - was also the greatest curse because "often we choose the wrong thing" and when the wrong choices were made, sometimes innocent people suffered.
He said the school was not bitter and commended the work of the Outdoor Pursuits Centre.
He said they were not pointing the finger of blame.
"That is for the experts to decide. If mistakes were made we reach out to those who made those calls with love and forgiveness."
By Stephen Cook

Email

Stephen