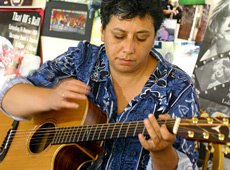 Musician Mahinarangi Tocker's life support was turned off yesterday at North Shore Hospital, after she suffered an asthma attack last week that left her without oxygen for a period of minutes.
She died peacefully this afternoon.
Tocker was one of New Zealand's premier Maori musicians, whose vocal style was comparable to Joan Armatrading and Tracey Chapman. A fiercely proud west Aucklander, she was also a stalwart figure in the gay community.
At the invitation of Prime Minister-elect Helen Clark, Tocker sang at the opening of Parliament in 1999.
In 2000 she took part in the television campaign "Like Minds Like Mine" in an attempt to de-stigmatise mental illness.
In this January's New Year honours, Tocker became a Member of the New Zealand Order of Merit, for services to music.
Tocker leaves behind a partner of 19 years and a daughter. She was 52.
- Newstalk ZB